U subotu 28. lipnja će se u zagrebačkom kultnom klubu Jabuka u sklopu programa (Welcome to the) Dark Side održati večer posvećena jednom od najvećih i najutjecajnijih alter pop grupa iz osamdesetih, grupi The Smiths i njihovom pjevaču Morrisseyu koji je nakon razlaza The Smithsa nastavio solo karijeru. The Smiths se na žalost neće ponovo okupiti ali to nije razlog da se ne prisjetimo njihovog sjajnog opusa koji već desetljećima oduševljava publiku u Jabuci, a i na mnogim drugim mjestima širom kugle zemaljske. Pored toga je Morrissey, koji i dalje na svojim koncertima izvodi velik broj hitova The Smiths, najavio objavljivanje novog albuma za ovu godinu.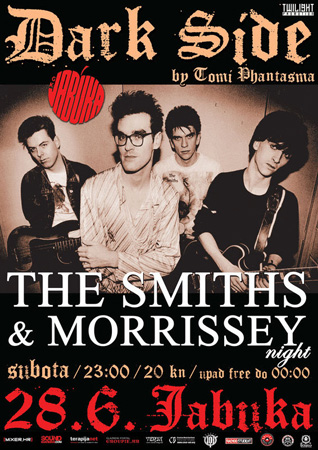 Večer će započeti u 23 sata i prvi dio večeri će biti povećen preslušavanju opusa The Smithsa čije pjesme "How Soon Is Now", "Panic", "Ask", "Bigmouth Strikes Again", "Girlfriend in a Coma", "This Charming Man", "What Difference Does It Make?", "Some Girls Are Bigger Than Others",......pa tako i Morrisseyeve; "Suedehead", "Everyday Is Like Sunday", "The More You Ignore Me, the Closer I Get", "The Last of the Famous International Playboys",.....svi dobro znamo i savršena su uvertira za početak ljetne sezone i čagicu subotom u Jabuci. Smithsi i Morrissey će se vrtiti od 23 do 01 sat iza ponoći nakon čega slijedi nastavak Dark Side partya gdje će Tomi Phantasma vrtit sve mračne hitove iz osamdesetih, tj. hitova iz "stare Jabuke", pa tako i Joy Division, Bauahus, The Cure, Siouxsie & The Banshees, Red Lorry Yellow Lorry, The Cult, Christian Death, Human League, Simple Minds, Depeche Mode, OMD, Ultravox, Spandau Ballet, Blancmange, Video Sex, Lene Lovich, Soft Cell, The Sisters Of Mercy, David Bowie, Iggy Pop, The Mission, Virgin Prunes, Mizar, EKV, Clan Of Xymox, Killing Joke, Cassandra Complex, Heroes Del Silencio, Echo & The Bunnymen, Pixies, Violent Femmes, Nick Cave, The Cramps, Laibach, DAF, Nitzer Ebb, Die Krupps, Front 242, Borghesia, Misfits, Ramones, The Damned,... sve do današnje glazbe koja slijedi taj zvuk, kao što su Nine Inch Nails, Covenant, White Lies, Marylin Manson, Editors, Hurts, Placebo, London After Midnight, Rammstein,...
Cijena ulaznice iznosi 20 kn, a besplatan ulaz & happy hour su od 23:00 do ponoći.
promo girl // 25/06/2014