Četvrto izdanje Punk Rock Holiday festivala polako kompletira lineup i time najavljuje još jedan spektakl u dolini Soče ovog ljeta (5.-9.kolovoza 2014).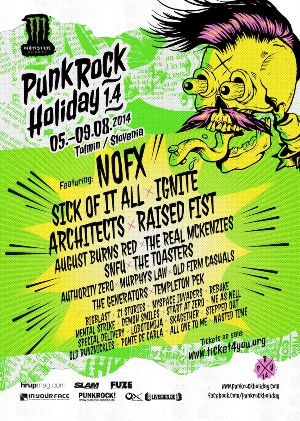 Uz već najavljene NOFX, Raised Fist, Authority Zero i August Burns Red, main stage programu dodano je 10 velikih imena:
• Sick Of It All (http://www.sickofitall.com/)
• Ignite (http://igniteband.com/)
• Architects (http://architectsofficial.com/)
• The Real Mckenzies (http://www.realmckenzies.com/)
• SNFU(https://www.facebook.com/pages/SNFU)
• The Toasters(http://www.toasters.org/)
• Murphy's Law(https://www.facebook.com/Murphyslawnyhc)
• Old Firm Casuals(https://www.facebook.com/TheOldFirmCasualsOi)
• The Generators(http://www.the-generators.com/)
• Templeton Pek (https://www.facebook.com/templetonpek)
Beach stage program, koji se održava tokom dana, također je popunjen mladim, ali zanimljivim bendovima: Big Blast, Rebuke, 21 Stories, Mental Strike, Demon Smiles, Myspace Invanders, Start At Zero, Me As Well, Special Delivery, Lobotomija, Skagether, Stepped Out, Old Runznickles, Ponte De Carla, All One To Me i Wasted Time.
Cijena ulaznice je 89 eura + 10% provizija (kampiranje uključeno u cijenu), a može se nabaviti preko Ticket4You servisa (http://www.ticket4you.org/) ili na prodajnim mjestima u Ljubljani, Mariboru i Trbovlju.
fichonm // 21/01/2014