petak 14. lipnja će se u zagrebačkom kultnom klubu Jabuka u sklopu programa (Welcome to the) Dark Side održati večer posvećena divi dark i goth scene, Siouxsie Sioux iz grupe Siouxsie & The Banshees. Siouxsie je svoju karijeru započela družeći se sa Sex Pistols na početku stvaranja punk rock povijesti i bila dio punk revolucije 1976. u Londonu. Ubrzo osniva bend Siouxsie & The Banshees u čijoj je prvoj postavi bubnjeve svirao najpopularniji punker svih vremena Sid Vicious. Nakon prvobitne punk faze Siouxsie početkom osamdesetih prelazi u dark/goth fazu i postaje ikona kako punk tako i dark/goth scene, a grupa Siouxsie &The Banshees, u kojoj je svojevremeno svirao i Robert Smith iz The Cure, jedna od predvodnika dark/goth scene rame uz rame s Joy Division, Bauhaus i The Cure.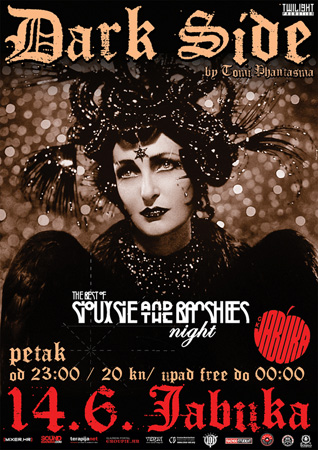 Nakon presjeka glazbenog opusa Siouxsie & The Banshees slijedi nastavak Dark Side partya, najvećeg ovdašnjeg partija posvećenog dark osamdesetima, gdje će Tomi Phantasma vrtiti sve mračne hitove iz osamdesetih, od Bowiea, Iggy Popa, Bauhaus, The Cure, Siouxsie & The Banshees, Einsturzende Neubauten, Red Lorry Yellow Lorry, The Cult, Christian Death, The Sisters Of Mercy, The Mission, Fields Of The Nephilim, Virgin Prunes, Mizar, EKV, Clan Of Xymox, Killing Joke, Cassandra Complex, Echo & The Bunnymen, Pixies, Violent Femmes, Nick Cave, The Cramps, The Smiths, Depeche Mode, Ultravox, Simple Minds, Soft Cell Laibach, DAF, Nitzer Ebb, Die Krupps, Front 242, Borghesia,... pa sve do današnje glazbe koja slijedi taj zvuk kao što su Nine Inch Nails, Covenant, White Lies, Marylin Manson, Placebo, London After Midnight,...
Početak u 23:00, cijena ulaznice 20 kn. Ulaz besplatan & happy hour od 23:00 do ponoći.
promo girl // 30/05/2013