Nakon uspješnog dočeka Nove 2013. godine, gdje je u Jabuci bila atmosfera kao u dobra stara vremena i gdje se okupila stara "jabučarska" ekipa koja se nije vidjela i godinama, slijedi novi "gathering" starih i novih "šišmiša", punkera i ljubitelja 80'sa u petak 25. siječnja na novom izdanju (Welcome to the) Dark Side partiju kojeg predvodi poznati zagrebački alter dj Tomi Phantasma. Pa ako već ne možete do Venecije na maskenbal možete doći u Jabuku i prisjetiti se starih dobrih vremena kada nam je bio svaki dan bal pod maskama.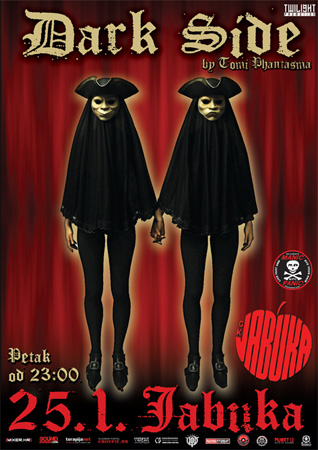 Okosnica programa je glazba koja se vrtila u Jabuci krajem osamdesetih i početkom devedesetih, zlatnom dobu alter glazbe, tj. dark-a, pokreta koji je upravo i nastao u Jabuci. Tako će na repertoaru biti od old school dark i goth rocka, new wavea, post punka i electra do novijih bendova koji svoju glazbu stvaraju na tim temeljima. Znači od David Bowiea, Iggy Popa, Joy Division, Bauhaus, The Cure, Virgin Prunes, Christian Death, The Cult, Depeche Mode, Gang Of Four, Alien Sex Fiend, Killing Joke, Red Lorry Yellow Lorry, Nitzer Ebb, Die Krupps, Front 242, Skinny Puppy, DAF, Dance Society, Sex Gang Children, PIL, Simple Minds, Human League, Lene Lovich, The Stranglers, Ramones, Misfits, The Smiths, Mizar, EKV, Laibach, The Sisters Of Mercy, The Mission, ... preko Nine Inch Nails, Clan Of Xymox, Fields Of The Nephilim, ... do London After Midnight, Diva Destruction, Rosetta Stone, Heroes Del Silencio, Placebo, Marilyn Mansona, Covenant, Rob Zombiea, Deine Lakaien, The 69 Eyes, Paradise Lost, Tiamat, Moonspell, White Lies, Editors, Rammstein,....
Program će započeti u 23 sata, a ulaz je besplatan do ponoći do kada traje i happy hour, tj. akcijske cijene pića, dok će se nakon ponoći ulaz naplaćivati 20 kn.
Welcome To The Dark Side!
promo girl // 16/01/2013