U petak 18. svibnja će se u zagrebačkom Boogaloo Clubu u sklopu programa Dark Side Of 80's održati večer posvećena jednom od velikana rock scene, Ianu Curtisu, frontmenu legendarnih Joy Division i to povodom 32. godišnjice njegove smrti. Na programu će pored same glazbe biti odličan dokumentarac "Joy Division" i live svirka grupe Interzone koja će svirat pjesme Joy Division.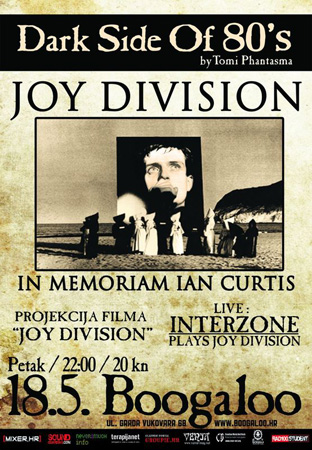 Nakon presjeka glazbenog opusa, filma i live svirke grupe Interzone posvećene Joy Division slijedi nastavak Dark Side Of 80's partya, najvećeg ovdašnjeg partija posvećenog dark osamdesetima, gdje će Tomi Phantasma vrtiti sve mračne hitove iz osamdesetih, čije je scene i sam bio pripadnik, od Bauhaus, The Cure, Siouxsie & The Banshees, Einsturzende Neubauten, Red Lorry Yellow Lorry, The Cult, Christian Death, The Sisters Of Mercy, The Mission, Fields Of The Nephilim, Virgin Prunes, Mizar, EKV, Clan Of Xymox, Killing Joke, Cassandra Complex, Echo & The Bunnymen, Pixies, Violent Femmes, Nick Cave, The Cramps, The Smiths, Depeche Mode, Ultravox, Simple Minds, Soft Cell Laibach, DAF, Nitzer Ebb, Die Krupps, Front 242, Borghesia,... pa sve do današnje glazbe na koju je utjecao rad grupe Joy Division i dark 80's, kao što su Nine Inch Nails, Marylin Manson, Placebo, London After Midnight,...
Početak u 21:00, cijena ulaznice 20 kn.
promo girl // 11/05/2012