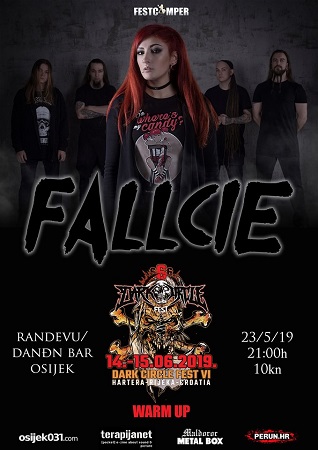 Festcamper
donosi treće po redu zagrijavanje za nadolazeći Dark Circle Fest 👿
Za odličnu atmosferu u DANĐN-u pobrinut će se gosti iz Sankt Peterburga, 🔥
FALLCIE
🔥
Jednog sretnog metalca Festcamper nagrađuje s bespla upadom na
Dark Circle Fest VI
😈
Upad/Donacija: 10kn
Podrži metalurgiju 🤘
Dark Circle 2019 lineup:
Kryn, Voloh, Speedclaw, PHC, Asheraah, Their, Porko Dio, Nanowar of Steel, Stimulans, Upset, Sweet Thunder, Epicentar, Miscreation, Krematorium.
FALLCIE
was formed in 2017 after a female singer joined NU-NATION band. As NU-NATION the band toured a lot all across Europe (6 European and 1 Russian tour), released 3 full-length albums, shared the stage with SOULFLY, EKTOMORPH, BETRAYING THE MARTYRS, etc. The band changes name to FALLCIE and releases 'Rock'n'Rolla' single as a music video. In autumn 2017 FALLCIE spend a month touring all across Europe getting all-positive feedback from NU-NATION fans as well as from new audience.

During the first year of activity the band changed 2 singers, and in summer 2018 a full-time member was finally found - Valentina Lavrinenko joins the band.

A debut album 'Born Again' was released on October, 7th, after that the band made almost a 2-months tour, played all across Europe, from Portugal to Russia.

In the beginning of 2019 Fallcie sign with darkTunes Music Group label.
FB EVENT:
www.facebook.com/events/512598989273475/
promo guy // 08/05/2019