Raw Syndicate Booking i It Came From The Garage predstavljaju: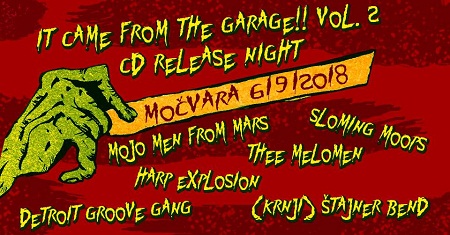 Nakon gotovo 8 godina, stiglo je novo izdanje kompilacije hrvatskih garage/rock'n'roll bendova!
Po uzoru na izdanja "Bombardiranje New Yorka" etikete Slušaj najglasnije te na slična inozemna (Back From The Grave, Slovenly Recordings…), drugo izdanje kompilacije "It Came From The Garage" donosi 10 hrvatskih garažnih dragulja i jedan gostujući bend iz Njemačke.
U četvrtak 6.9. spremamo promociju CD-a na kojoj će vas ludo zabavljati sljedeći bendovi:
Mojo Men From Mars - punkabilly bager
Detroit Groove Gang - rock'n'roll banda
Thee Melomen - četvorica prekaljenih glazbenih šmekera
(Krnji) Štajner Bend - štrokenrol trio koji u posljednje vrijeme djeluje kao duo
Sloming Moops - autohtoni zagrebački garage punk minimalizam
Harp Explosion - Thee One Man Band - one man dirty garage blues harmonica looping madness from outer space
UPAD POŽELJNA DONACIJA 25 KN (SREDSTVA PRIKUPLJENA DONACIJAMA NAMIJENJENA SU GLAZBENICIMA)
Prvih 80 posjetitelja koji izdvoje donaciju na ulazu u klub, dobit će besplatan primjerak CD-a!
Više informacija o kompilaciji potražite na:
https://itcamefromthegarage.bandcamp.com/album/vol-2
https://www.facebook.com/icfthegarage/
https://www.facebook.com/Ispodradara100.5MHz/
Visual Art: Kriptoid graphics
FB EVENT:
https://www.facebook.com/events/301397747100394/
promo girl // 03/09/2018