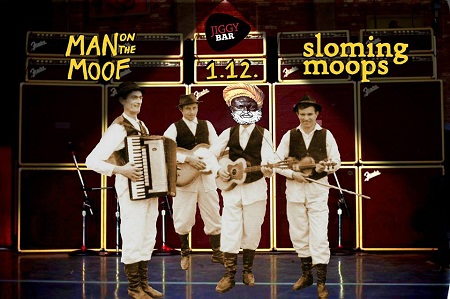 PETAK 1.12.2017.
Man on the Moof + Sloming Moops u Jiggy baru
Start 21:00 h
Free upad!
Hej ti!
Dosta ti je radnog tjedna i baš bi se volio opustiti uz rokenrol tonove koji ti paraju uši?
Dogegaj se u petak do Jiggyja jer čeka te beskompromisna SUPERMOOPS BIGMOOF pržiona u režiji lo-fi garažera Sloming Moops i čuvenih zagorskih sinova Man on the Moof!
MAN ON THE MOOF
Man on the Moof je bend sačinjen od 4 zagorska šmekera kojima uz gemišt i kolesterol žilama kola i rokenrol.
Sviraju bubnjeve, gitaru, bass, klavijature, usnu harmoniku i drombulju, sva četvorica pjevaju, a u njihovom repertoaru se uz pokoji pokušaj autorske stvari mogu pronaći obrade sljedećih bendova: Repetitor, Ramones, Eagles Of Death Metal, Zadruga, Let 3, Paraf, Stooges, Kinks, Kawasaki 3P, Zabranjeno Pušenje, Dreletronic, Alen Vitasović itd.
SLOMING MOOPS
Sloming Moops je garage punk band kojeg je u ljeto 2015. godine pokrenuo San Mikulec u maniji slušanja Obliviansa, Jaya Reatarda, Sonicsa, Black Lipsa i drugih garažnih heroja...
U rekordnom roku nastaje debitanski album "Puzzle", objavljen na jesen 2015. na etiketi Triple Zed Records. Drugi album "Dance Drool" izlazi početkom 2017., nakon čega Moopsi postaju i koncertno aktivni u postavi: San (gitara i vokal), Elena (bas) i Vex (bubnjevi).
Nedavno su izdali kompilacijsku homemade kazetu s oba albuma, koja se može nabaviti na svim boljim Moops gigovima!
BANDCAMP:
https://slomingmoops.bandcamp.com/
FB:
www.facebook.com/sloming.moops
promo guy // 01/12/2017