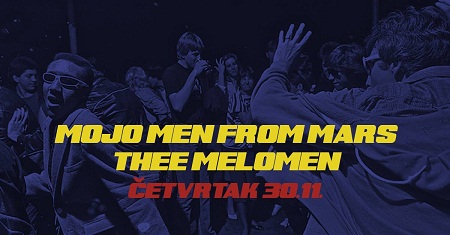 Četvrtak 30.11. - Mojo Men From Mars i Thee Melomen u Sobi na rubu Savske!
RAW SYNDICATE BOOKING PREDSTAVLJA:
MOJO MEN FROM MARS (ZG)
Zagrebački r'n'r bend koji potpuno originalno na poseban način kombinira rockabilly i blues utjecaje s prljavim garage punkom, sirovim zvukom i vrućinom kvartovskog asfalta.
Rockabilly iz 50-ih godina, garage 60-ih i punk 70-ih godina, zakuhat će dečki u Retru s posebnim receptom i bez kompromisa.
https://www.facebook.com/MojoMenFromMars/
https://mojomenfrommars.bandcamp.com/
THEE MELOMEN (ZG)
Vex (ex Vex and the Voxtones), Vex Wombat (ex thee Mad and Hairy Wombats), Ive (ex Dijabaz) i Mislav (Erotic Biljan and his Heretics, ex Babies) su stari znalci, rock zanesenjaci, majstori sirovog zvuka, čista poetika iz garaže.
2016. objavili odličan EP "Chinatown" dok su u organizaciji legendarnog muzičara Mike Watta još s tri banda s Balkana uvršteni na ploču u 7" izdanju, koja je pod imenom "Balkans Pedro Four Way", izdana na Record Store Dayu 2017 za diskografsku kuću ORG Music u limitiranom izdanju.
https://goo.gl/jYUiLY
https://www.facebook.com/Thee-Melomen-654122184644582/
https://theemelomen.bandcamp.com/
Četvrtak je definitivno novi petak!
SOBA NA RUBU SAVSKE je program pokrenut suradnjom Raw Syndicate Booking i Retro cafe & night bar.
promo guy // 29/11/2017