Ovoga petka jedan od omiljenih terapijskih bandova u jednom od omiljenih terapisjkih klubova ima velilku promociju svog četvrtog i odličnog studijskog albuma "Panontikon" koji je nedavno izašao a gdje drugdje nego na GBTM-u.
Prenosimo:
"Prekmursko štirico Štefan Kovač Marko banda lahko brez pretiravanj označimo za eno izvirnejših domačih zasedb, ki so pri nas vzklile v zadnjem desetletju. Vplive instrumentalne godbe preteklih del bi lahko iskali vsaj v jazzu, post-rocku, nojzu, etnu in folku, a bi vedno znova ugotovili, da gre za presežek enoznačne žanrske opredelitve. Kljub temu je potrebno poudariti, da je čar zasedbe križanje glasbenih svetov.
To se sedaj še širi, saj je bend tokrat svoj instrumentalij dveh kitar, basa in bobna obogatil še z raznovrstnimi akustičnimi instrumenti kot so bendžo, ukulele, kalimbe in ksilofon. Ti so zapisani na četrtem studijskem albumu "Panontikon", ki ga je, kot je to že v navadi za ŠKM bando, tudi tokrat zvočno ujel Plueg. Za naslovnico in grafični dizajn albuma je poskrbel Gregor Purgaj.
ŠKM banda ima za sabo že tri studijske in eno koncertno ploščo ter kar nekaj nastopov izven naših meja. Album, ki je izšel s skupnimi močmi založb Kapa in God Bless This Mess records bo prekmurski publiki premierno in seveda v živo predstavljen 5. decembra 2014 v MIKK-ovem kliubskem prostoru."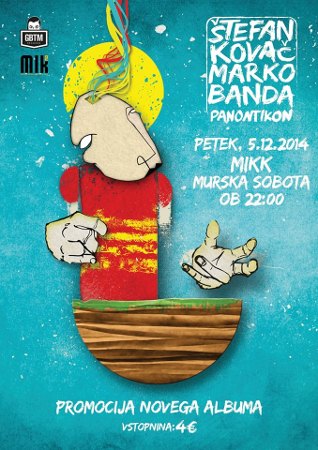 promo guy // 02/12/2014
PS: Upad je 4 EUR