The Levellers (UK) + Divokej Bill (Češka) 17.11.2005. Močvara, Zagreb
Nakon 8 studijskih albuma i 17 godina postojanja The Levellers će doći i u Zagreb! Ovaj folk-punk bend nastao je 1988. godine u Brightonu i od tada je okupio vojsku obožavatelja. Poznati po svojim pozitivnim vibracijama i angažiranim tekstovima, imali su 8 top 20 singlova i nekoliko platinastih, zlatnih i srebrnih albuma.
Bend ima svoju izdavačku kuću i studio koji besplatno daju mladim bendovima na korištenje. Osnovali su i svoj glazbeni vikend festival u Brightonu, Beautiful Days.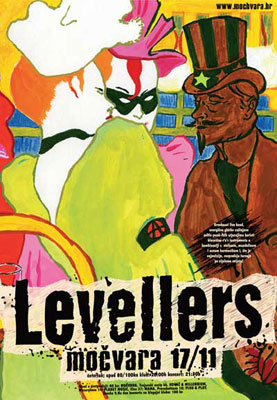 Nije ima strano odsvirati i do 200 koncerata godišnje, a na koncertu u Zagrebu podršku će im pružiti osmeročlani češki bend Divokej Bill koji ove godine slavi svoj 10. rođendan, a sviraju veselu plesnu glazbu s primjesama countryja, punka i keltskih tonova.
Vrata se otvaraju u 20h, a koncert počinje u 21.30h. Ulaznice u pretprodaji po 80 kuna možete potražiti u:
Kovač & Millennium, Masarykova 14
Planet Music, Ilica 37
Mama, Preradovićeva 18
Plug & Play, Savska 9
Na blagajni kluba na dan koncerta ćete za upad morati izdvojiti 100 kuna.
ana // 09/11/2005