Distune promotion u suradnji sa Loud Life Concerts predstavlja
EPIC PROBLEM #3
JUCIFER (USA)
sludge/doom/metal
THE ORANGE MAN THEORY (Italija)
hardcore/extreme rock/metal
četvrtak 26.5.
Stereo Klubb,Rijeka
početak: 23h
ulaz: 30,00kn
JUCIFER (USA)
www.jucifer.com
http://www.myspace.com/jucifer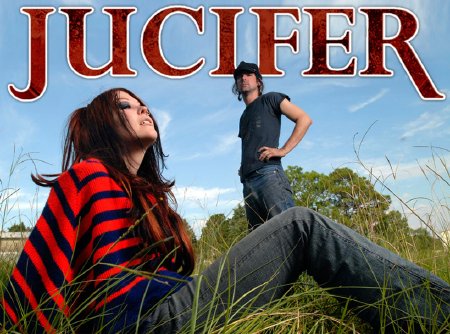 Osnovani su daleke 1993. te se slobodno mogu smatrati ''pionirima'' sludge/doom/metal izričaja te jedinstvenog ''wall of sound'' napada na osjetila.Gitaristica Gazelle Amber Valentine hvaljena je po časopisima kao recimo Guitar Player zbog svoje unikatne tehnike sviranja. JUCIFER su često uspoređivali sa The Melvins, Jesus Lizard, Darkthrone, Celtic Frost, Slayer, Neurosis, Morbid Angel, Napalm Death, i Black Sabbath, kao i suvremenijim izvođačima poput Harvey Milk, Lightning Bolt, Electric Wizard, Eyehategod, te Acid King.
Albumi koji su im često koračali u nešto ''lakšem'' slušnom obliku nailazili su na usporedbe sa Portishead, My Bloody Valentine, The Pixies, Nirvana, Queen ili Loretta Lynn.
Band doslovno živi na cesti od 2001.g. u svom ''tour RV'' vozilu te neprestano sviraju kad i gdje je god moguće. Od 2006. dolaze po protektorat ''velikog'' RELAPSE RECORDSA te izdaju ''Thine Enemy Hunger'' pa 2008. dupli album ''L'Autrichiene'', osnivaju vlastitu izdavačku kuću zbog izdavanja sedmog materijala nazvanog ''Throned In Blood''. Od tada ogroman broj koncerata, turneja te pojavljivanja po relevantnijim glazbenim časopisima (Terrorizer, Modern Drummer, High Times, Decibel, Outburn, Metalsucks, Stereogum, Metal Army itd..) omogućili su im čvrstu bazu fanova te naklonost glazbenika kao što su Dave Lombardo (SLAYER) i Dale Crover (THE MELVINS), koji ih redovito navode kao jedan od najdražih bendova.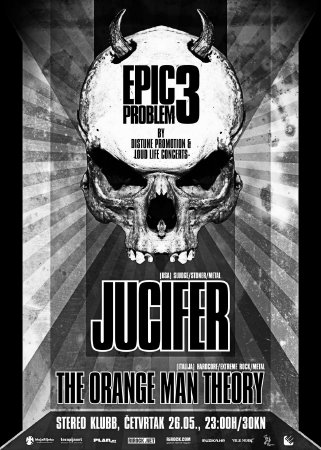 THE ORANGE MAN THEORY (Italija)
http://theorangemantheory.com/web/
http://www.myspace.com/theorangemantheory
Ovi rimski legionari su na sviračkoj karti od 2003.g, počastiti će nas po prvi put na riječkoj pozornici svojom opasnom te zaista suludom energijom. Sonično ekstremni Rock kvartet isporučuje nenormalne količine sirove snage, ''groovy'' disonanci, čudnih i sinkopiranih ritmova te povelikom ovisnošću za 'death metalom ' i rockom '70-ih!
Prvi album nazvan ''Riding A Cannibal Horse From Here To...'' nastao je pod palicom ''velikog uma'' Steve Austina (TODAY IS THE DAY) te je pobrao hvalospjeve svjetske kritike i svih bitnijih časopisa. Materijal je izdan za američki 'label' Supernova Records. Uslijedile su turneje po USA, Europi i Južnoj Americi i nastup na legendarnom SXSW festivalu u Teksasu. Sviralu su sa impreivnim imenima poput Sick Of It All, Today Is The Day, Wolves In The Throne Room, All Shall Perrish, Dark Funeral, Ephel Duath Itd.. Drugi album ''Satan Told Me I'm Right'' snimaju ponovo sa Austinom i izdaju ga 2009. za talijanski 'label' SubSound Records. U 2010. izdaju 7'' split sa grčkim bendom Lucky Funeral te pripremaju novi, treći album za 2011.
+prije,između bendova i nakon koncerta muzika by MAKI
distune promotion // 15/05/2011