Čitateljima terapija.net magazina
već zasigurno poznata talijansko-hrvatska avant-rock grupa East Rodeo
osvaja Sloveniju!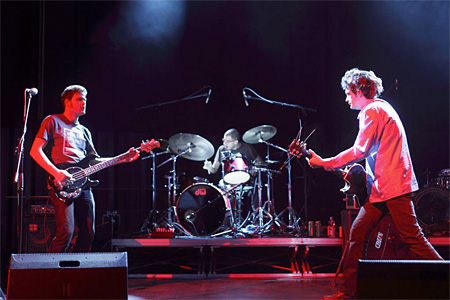 East Rodeo © Miha Fras
Avant-rockovska četvorka, koja dolazi iz trokuta Pula-Ferrara-Rim, svoju mini slovensku turneju započinje 13/04 u Ljubljani, u Menzi pri koritu (Metelkova). Glavni povod spomenute turneje je izlazak novog albuma, trećeg po redu, naslovljenog
"Morning Cluster"
(siječanj 2011, Menart). Zanimljiva su i imena koja su gostovala na pliči, što dovoljno govori o kvalitete ove skupine: njujorški gitarist
Marc Ribot
, njegov pajdaš sa jazz i avangardne rock scene, kontrabasist
Greg Cohen
, legendarni violinist
Warren Elli
s (Dirty Three, The Bad Seeds, Grinderman) te hrvatska dramatičarka
Ivana Sajko
s kojom je hrvatski dio benda sudjelovao pri predstavama "Rose is a rose is a rose is a rose" te "Prizori s jabukom". Zanimljivo je da će dan nakon njih, spomenuti Marc Ribot nastupiti također u Ljubljani!
O samom bendu, kojeg čine Nenad Sinkauz (gitara, glas), Alen Sinkauz (bas, glas), Alfonso Santimone (elektronika u živo, sintetizator, klavir, programiranje) te Federico Scettri (bubnjevi), promo materijal navodi: East Rodeo nisu proizašli iz ideje "hoćemo biti bend", već iz "hoćemo stvarati glazbu". Upravo se u tome vjerojatno i skriva ključ do razumijevanja njihova djela, koje se ne može tako lako sprpati u žanrovske ladice. Njihovo djelovanje dodatno obilježava odluka o pozicioniranju na društvenoj margini, razapeti između Istre i Italije, između glazbenih, kazališnih i filmskih projekata, što skupini omogućuje kreativnu slobodu te funkcionira kao izvor inspiracije.
Reputaciju odličnog koncertnog benda koja ih prati, će njihovi obožavatelji i svi otvoreni za nove glazbene zvukove, moći provjeriti i u Mariboru i to čak na dva koncerta. Prvi će se odviti 14/04 u Kinu Udarnik gdje će im predgrupa biti domaćini
Collision Trio
, free form frakcija grupe Sportbilly Krši Embargo, te dan kasnije, 15/04, u Dvorani Gustaf mariborske Pekarne, gdje će ih podržati također domaće snage imena
Barka tone in Bele plombe
.
East Rodeo - American Dream @ Live in &TD, Zagreb 28.01.2011.
sale // 12/04/2011