Where are you now and what are you doing?
I AM CURRENTLY IN LOS ANGELES WORKING ON VARIOUS PROJECTS FROM DIDO TO MOVIE SOUNDTRACKS AND LOOKING FOR MANAGEMENT AND A HOME FOR THE NEW RECORD
Why Pedestrian as a name?
I LIKE THE FACT YOU ONLY HAVE TO SAY IT ONCE AND YOU FIND THE NAME EVERYWHERE…I LIKE That IS A COMMON WORD USED TO DESCRIBE THINGS That ARE ORDINARY…..I DO NOT BELIEVE WE ARE ORDINARY SO IT WAS FUNNY TO ME
A brief history of how the band started?
MY GIG WITH ALANIS ENDED AND I WAS ANXIOUS TO GET INTO WRITING MY OWN MUSIC….MY PREVIOUS BAND, SUB.BIONIC WAS BREAKING UP AND SO I STARTED PLAYING WITH A COUPLE OF OTHER FRIENDS WITH THE IDEA OF HAVING EVERYONE SING AND BE A POWER TRIO AND BUT AFTER TOURING WITH DAMIEN RICE, THE BAND JUST SLOWLY EVOLVED TO WHERE IT IS NOW, A 4 PIECE WITH ONE SINGER
Tell us something about your music?
MY MUSIC IS WRITTEN ABOUT MY CONNECTION TO SOCIETY AND LIFE AND HOW I DEAL WITH THINGS AND HOW I PERCEIVE OTHER PEOPLE DEAL WITH THINGS….SOMETIMES IT IS ANGRY, SOMETIMES IT IS SAD BUT IT IS ALWAYS WRITTEN FROM A HOPEFUL PLACE….I LOVE BEAUTIFUL THINGS AND COLOR AND LIGHT BUT I TEND TO HANG OUT IN DARK PLACES AND PUSH MY SKELETONS AROUND TO SEE WHAT IS LYING UNDERNEATH
Who were your influences at the start?
WHEN I FIRST STARTED PLAYING GUITAR, I WAS INFLUENCED HEAVILY BY EARLY 80'S ROCK GUITAR AND THE HEAVY BANDS FROM THE 60'S AND 70'S….WHEN I HIT MY LATE TEENS, I STARTED TO EXPAND AND LISTEN TO EVERYTHING FROM MILES DAVIS TO PACO DE LUCIA TO RY COODER…. THROUGH LISTENING TO DIFFERENT PLAYERS I GOT EXPOSED TO DIFFERENT WORLD MUSIC LIKE INDIAN MUSIC, AFRICAN MUSIC, ETC. BUT I AM TRUE ROCK AND ROLL FAN!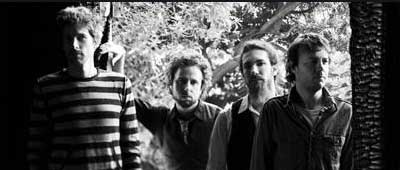 http://www.myspace.com/pedestrianmusic
You worked with lot of "famous" artists (Alanis Morissette, Damien Rice, Our Lady Peace, Annie Lennox, John Cale, Fiona Apple, Gnarls Barkley, Dido, Jane's Addiction, Carly Simon...). Who is your favourite to work with and who was "pain in the ass"?
WELL, I CAN TELL YOU MY FAVORITE IS ANNIE LENNOX OF THE EURYTHMICS. MY LEAST FAVORITE IS ........! I DO NOT FEEL COMFORTABLE SAYING SOMEONE IS DIFFICULT TO WORK WITH BUT LETS SAY THIS....IT IS ALWAYS CHALLENGING TO PLAY WITH SOME ONE WHO'S EGO IS BIGGER THAN THEIR TALENT......:)
In what movie soundtracks we can listen to your music?
OUR MUSIC HAS BEEN IN THE TELEVISION SHOWS, DIRT, SONS OF ANARCHY AND AS FAR AS MOVIES, NOTHING YET!
Can you please write your favourite albums and movies of 2008?
IN RAINBOWS BY RADIOHEAD
I HAVE NOT SEEN ANY MOVIES That BLEW MY MIND THOUGH I WAS EXCITED FOR HELLBOY 2
What do you listen when you're at home, on tour, right now…?
RIGHT NOW, I AM TAKING A BREAK FROM LISTENING TO MUSIC….I LISTENED TO OUR RECORD SO MUCH TRYING TO MIX, MASTER AND SEQUENCE IT That I GOT TIRED OF HEARING ANYTHING…AS WELL, BECAUSE OF MY WORK, I AM AROUND MUSIC ALL DAY SO I TAKE A BREAK SOMETIMES AND NOW IS ONE OF THOSE TIMES!
Tell me something I would never guess about you?
I HAVE A FOOT FETISH
pedja // 01/11/2008