Maybe you're wondering how I got to Kortrijk and Sonic City festival in the first place. Well, the real question I would like to ask myself at this point is 'How the hell did I not get there any sooner?! Where have I been the last 12 years?!'. Anyway..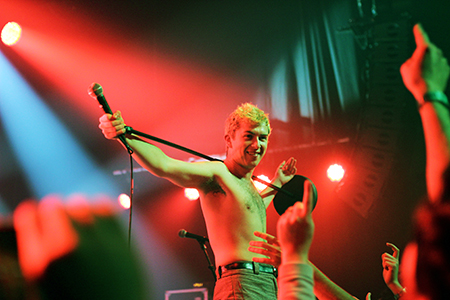 shame © Jelena Vojinović
The answer to how I got there now is - my soft spot for the young south London post punk band shame. I just went online one day and casually scrolled through their tour dates. And so Belgium popped up. Kortrijk. I giggled when I tried to pronounce it for the first time. I thought, well, Belgium is close enough, would be just lovely to see the boys live again.
Since I saw it was a festival, I wasn't that excited. I prefer to catch bands solo gigs. But I gave Sonic City the benefit of the doubt and went on their page to see what kind of festival it was. And well, as it turned out, it was EXACTLY my kind of festival. Small and intimate. Perfect! Then I saw shame were not only performing but curating the festival, alongside Cate Le Bon. How cool it is to let artists curate your festival?! Pretty cool. I took a quick look at the line up and my pupils dilated instantly and my heart jumped of joy. Next thing I did, literally a second after seeing the line up, was booking the flight. There was a lot of names I knew and wanted to catch live for a while now but also a lot of the unknown ones.
Considering the fact it's my passion to discover new and emerging bands and travel to see them live while they are still in their beginnings, words just can't explain how excited I was about all of this.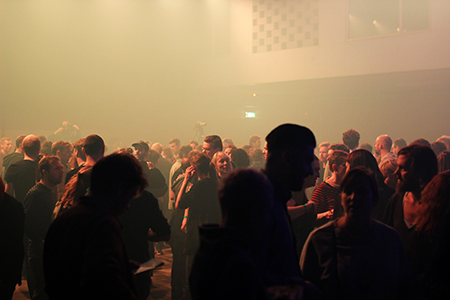 Sonic City 2019 © Jelena Vojinović
I arrived in Kortrijk Friday afternoon, after endless exhausting hours of car/plane/shuttlebus/train rides and was feeling the 'I'm too old for this shit' sign lightning up above my head. So, I decided (with heavy heart but thankful body) to sleep this one out and miss the opening day of the festival. Still haven't quite forgiven myself for that.
Saturday, Day 2 of the festival. I came to the venue at around 2:30pm and met with my beautiful host, Elisah from the festival organisation crew. The venue, called Depart, is a huge multifunctional events hall and urban sports park. Sonic City is happening in just one part of the hall. Elisah first took me on a little tour through the venue showing me the main stage area, the smaller club and the even smaller third stage upstairs and finally the outside food area.
Sonic City 2019 © Jelena Vojinović
The whole place is laid open, you can roam around freely. There is no security. No barriers. The concerts starting as early as 2pm, lasting till no later than 1am. Parents with their kids, people in their 60s, artists and band members (I was fangirling like crazy), everyone is roaming around the place and for me it always feels a bit bitter-sweet to witness the whole beautiful gig&festival attending culture in other countries.
Here I am, with people of an age range from 6 to 66, where 60 year olds are talking to me about which shame song is their favorite one and informing me about their equipment being stolen in Iceland the day before, and I'm just standing there in awe and thinking about home and how more than half of our youngsters are not familiar with any of the new and alternative European music, let alone older people. Enough of the thinking, let's start consuming some great music!
First gig I got to catch was that of the Philadelphia based Mannequin Pussy. Sadly, I came rather late to their gig and with having just arrived to the festival, I was visually distracted by everything and couldn't quite concentrate on the gig. I think I got to catch maybe 2 songs before they left the stage. And all I could take from it was that the singer was a highly passionate performer.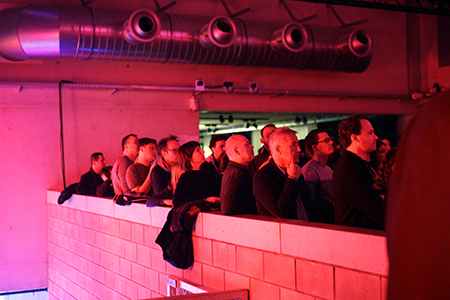 Sonic City 2019 © Jelena Vojinović
I went upstairs next, where UK's vocalist and songwriter Ed Dowie was starting to perform his experimental and ambient set. He has an amazing voice, he is sweet and also very funny in his communication with the audience. After Ed's melodies softly pushed me into the desired festival state of mind, I went back to the main stage to catch the Washington d.c. post punk/rock/pop outfit Priests. As they performed it got more and more fun and I was finally getting to the right festival temperature.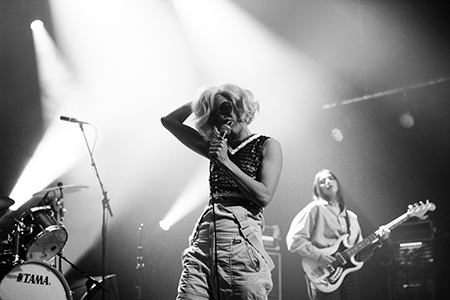 Priests © Jelena Vojinović
Next on my list was the native band Whispering Sons who filled the slot after Fontaines D.C. sadly cancelled. But by the end of the show, I wasn't that sad anymore about it. This darkwave, post punk band delivered a strong performance, some truly great songs and a very charismatic front woman. At first, I must admit I found her very low and dark voice rather strange but soon enough, after seeing her performance on stage, it fit right in.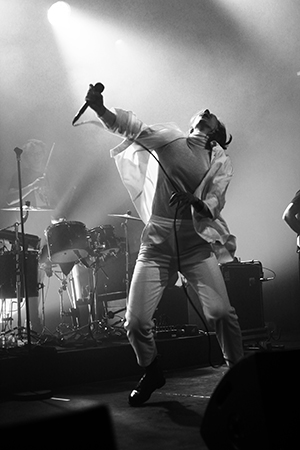 Whispering Sons © Jelena Vojinović
After them, I returned upstairs to the smallest of the three stages to listen to the Japanese vocal performer now living in London, HATIS NOIT. When I got up the stairs, on stage there was this beautiful woman with long black hair, dressed all in white and standing barefoot in front of her loop machine. Just the sight alone was enough to keep my interest. And then she started singing. I went on a journey to the distant Japanese shores, with mixtures of old and new, east and west. Enchanting voice and presence.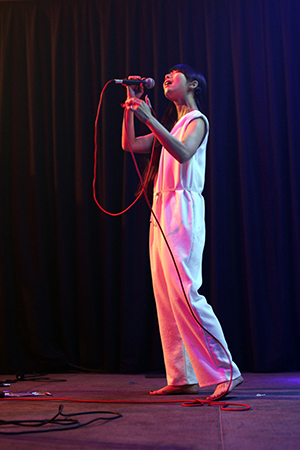 HATIS NOIT © Jelena Vojinović
As I've just given great food to my eyes and ears, it was time to give some to my stomach too. I headed outside to the food court and after some dilemma about which place to chose from, intuition led me to the "Just like your mom" food truck. They must have known I was coming to the festival cos they had my favorite soup in the whole world -carrot/ginger/coconut. Hey, food is very important to me, so this was also very exciting.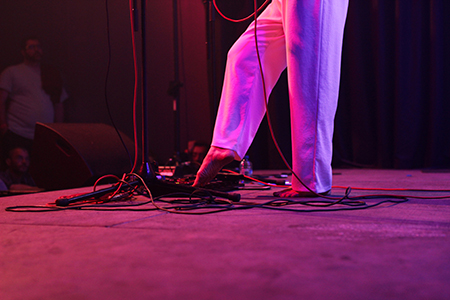 HATIS NOIT © Jelena Vojinović
After the soup, a nice chilly burger and a glass of beer, I returned highly satisfied to the main stage where Welsh singer/songwriter Cate Le Bon, the other curator of this years festival alongside shame, was about to play. What can I say about that gig… It was almost not a concert, rather a beautiful, fluid story she was telling us. And I was gawking at her the whole time. She is the kind of person that upon entering a room makes everyone lower their voice and turn their heads. Her energy and her movements are dominant and strong but at the same time very soft and tender. And so is her music. And while she stood steadily in one place, her band was all over the place, changing instruments all the time. Which, visually, went along with the idea of her being the storyteller of the story unfolding in the background and in our ears. I enjoyed the whole experience very much.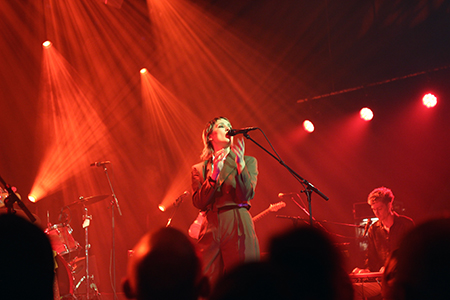 Cate Le Bon © Jelena Vojinović
My evening continued with the popish sounds of american band Mega Bog and ended with Thurston Moore back at the main stage with visibly more of the older audience filling up the room. Hate me for saying this, but that was the first gig where I felt like it didn't really belong at this festival. But I guess this is just one of the many things that make this festival so special..there is literally something for everyone. With respect for Mr. Moore, his band and their legacy, I said good night and went home already excited about the next day and two of the main reasons I came all the way here, The Murder Capital and shame.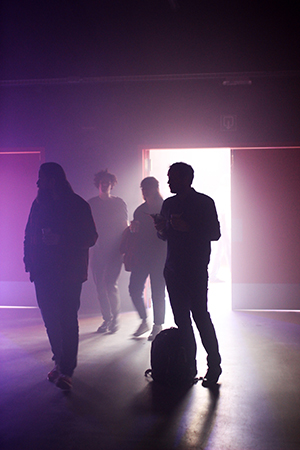 Sonic City 2019 © Jelena Vojinović
Sunday came, the last day of the festival. I arrived to the venue just in time to hear the British band Squid and their very unusual mixture of genres. There's jazz. There's punk. There's ambient stuff. And that's to name just a few. It all sounds perfectly fitting and exciting. I have nothing but admiration for these new young bands and their fearlessness and freedom in experimenting with everything. In the end, this is what life should be all about for everyone of us.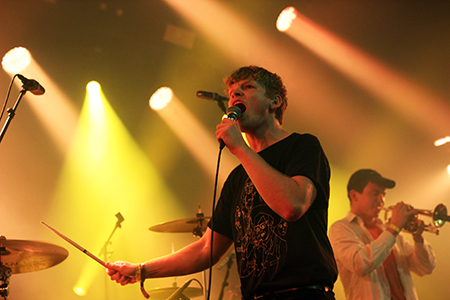 Squid © Jelena Vojinović
Little by little, the time finally came for The Murder Capital, a young post punk band based in Dublin, riding the success wave of their amazing debut album 'When I Have Fears', released earlier this year. The thing I love about being in the front row of small, intimate festival gigs is that I get the feeling like there is no one else in the room but me and the band. And when that band is The Murder Capital, the experience transcends the room itself.
There is tragedy in their beginning..a tragedy which they turned into creative energy and into violent beauty they are now sharing with us. I feel this duality when listening to them. They are dark and with a heavy core but are evoking emotions of warmth and solace. Their wailing guitars. James's gaze and moving voice. All of the above sets off the familiar sensation at the back of my neck when I just know that my romance with this band is going to be big and beautiful. With my eyes closed, I slow danced. With a huge idiot smile on my face I absorbed all the palpable energy these boys were transmitting. I even teared up at one point. Love, Love, Love.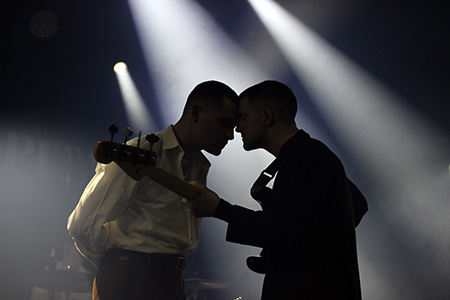 The Murder Capital © Jelena Vojinović
It was very hard concentrating on any other bands after that experience, but I didn't want to miss out.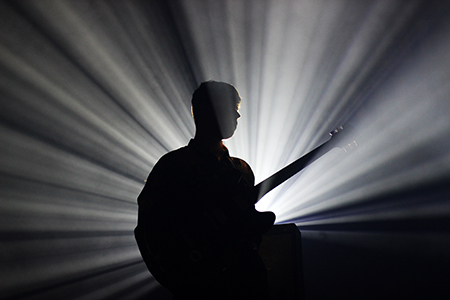 The Murder Capital © Jelena Vojinović
I went to the club next, to see what Boy Harsher will cook up. Boy Harsher is an american two piece dancing machine delivering sensual darkwave electro sounds. And they were actually awesome. But as much as I tried to get my ass to shake, my mind was somewhere else and it was no use.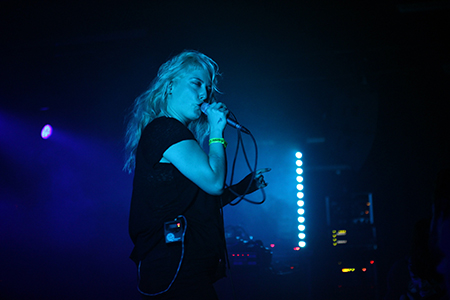 Boy Harsher © Jelena Vojinović
So, I went to see Deerhunter next. It was a nice gig but one that lacked excitement in my opinion..It felt like they were playing it safe.
The culmination of the festival was approaching, it was time for the shame closing gig. I wondered how that was going to go down.. I smelled something burning, in a matter of speaking. But I was expecting, let's say, a burning car. What we got was a fully grown raging forest fire.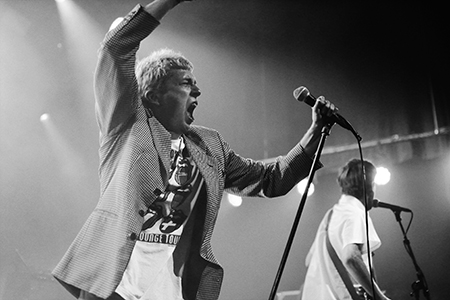 shame © Jelena Vojinović
And the thing about shame gigs is that shit happens rather quickly. This time was no exception either. Opening song of the evening (new piece called Another) and somewhere in the middle of it, Charlie starts calling on someone behind the curtain. Moments later, The Murder Capital boys take the stage, with a riders-of-the-apocalypse-like stance and in the blink of an eye fly into the surprised and thrilled crowd. The apocalypse began alright. Heavy moshing and stage diving with people and cups and whatnot constantly flying over our heads while I was trying to shield my gear and my skull, all the while screaming of joy and excitement like a little kid. Chaos! Glorious chaos! So cathartic and liberating. They presented 6 new songs but I'm almost certain no one can objectively tell you how they were cos this celebration that was raging became an entity of its own, a party monster that was swallowing us whole and we were enjoying it like crazy.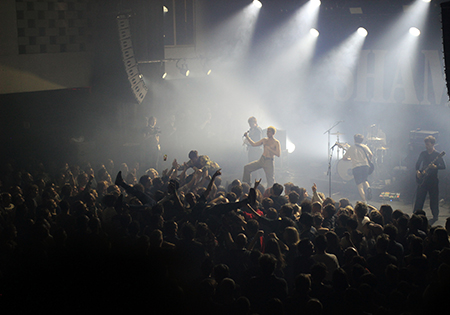 shame © Jelena Vojinović
What a way to say goodbye to this years edition of Sonic City Festival! Out with a BANG, hell yeah! The festival was a huge celebration of life, love, friends and music, all wrapped up in 3 days of perfect festival format.
Conclusion: New alternative music is exciting, non conformist, loud and grabs life by the balls. I feel honored and blessed to be one of the lucky consumers.
Thank you and see you next year dear Sonic City!
jelena vojinović // 15/11/2019