Next batch of artists confirmed at Goulash Festival!
While we still have many bookings in the pipe, we are delighted to share with you some of the artists who will be performing at Goulash Disko 2017!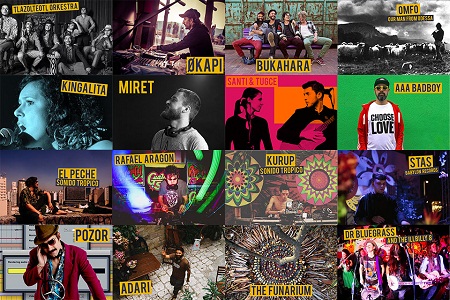 TLAZOLTEOTL ORKESTRA (Mexico): Ritmos gitanos para bailar! A mexican take on gypsy brass music.
OKAPI (Italy): Italian turntablist and sample cutup artist, mixing with techno/broken beat/electro-/8-bit with melodies from Klezmer, polka, children's music, idiot pop and hawaiian classics to name but a few.....
BUKAHARA (Germany): Psychedelic swing, Arabic reggae or Balkan jazz? All of the above!
OMFO (Ukraine): Sound artist, musician, electronic music producer and researcher, OMFO is coming to Goulash armed with his shepheards flutes and various other instruments.
KINGALITA (Hungary): a talented gypsy-folk singer from Hungary, exiled on the neighbour island of Hvar to live a gluten free life. She will be playing with Otoji and Ray, 2 special guests from Japan.
MIRET (Spain): Nomadic, groovy and dance oriented sound, willing to evoke dreaminess and awaken the most hidden parts of one's imagination.
SANTI & TUGCE (Turkey / Paraguay): A deeply sensual experience that playfully leaves you with a sense of the inexplicable, and fills you with wonder.
AAA BADBOY (UK): Head of music for Boomtown festival, AAA Badboy is coming to Goulash with a big bag of Balkan vibes, ready to unleash amidst the madness!
EL PECHE (Brazil): A heavy mix of european Techno and rythmic Brazilian beats make his sound absolutely and unarguably unique.
RAFAEL ARAGON (France): Club oriented, heavy bass material, yet delicate, maximalist and highly psychedelic.
KURUP (Brazil): Mezcla orgâno-sintética, simbiose electro-acústica.
STAS (Hungary): Hungarian Global Bass prodigy, and head of Babylon Records.
POZOR (Hungary): The freshest Balkan Drum & Bass live set to date.
ADARI (Italy): A combination of psychedelic and global sounds that make you travel both in the past and the future.
THE FUNARIUM (France): Land Art Installations in the Hammock Forest, upcycling matters found in situ, with a magical touch of fantasy world.
DR. BLUEGRASS (UK): Foot stompin', thigh slappin' bluegrass from the deep south (of England).
You can find more detailed descriptions from all the artists, as well as lineup updates on our Facebook page!
TICKET UPDATE: There are currently 19 Ex-Yu Early Bird tickets left, and 223 regular tickets. To get yours, it's over here:
https://goo.gl/W1Z26V
promo guy // 29/06/2017