27 year old holland band for the 2nd time in Croatia. They will be opening act for Franz Ferdinand on INmusic festival. Something about their past, present & future by Jos...
T. Where are you now and what are you doing?
We are at home now, doing some artwork, answering mail, putting cd's into sleeves, some bookkeeping, that kind of stuff... The first months of this year had been very busy, doing a couple of tours in- and outside Holland, and playing and recording with the Ethiopian saxophonist Getatchew Mekuria, which was a fantastic experience. After this we took a little break, and then starting next week we'll be playing a series of concerts at various festivals.
T. I know that everybody is asking that, but why did you name yourself THE EX?
It was a short name, easy to spray-paint on walls in no-time (which was our way of "advertising" in the early days), and it had no very specific meaning. But it was in the newspapers and magazines a lot, as part of other words: "Ex-minister returns to The Hague" or "ex-bus-driver starts new career"... We liked this "ex-this becomes that"... kind of thing. Later on we realized that this "ex-" means a sort of transition, a state of movement so to speak, going from one phase into a next one. And this idea of constant movement/change, we like that very much.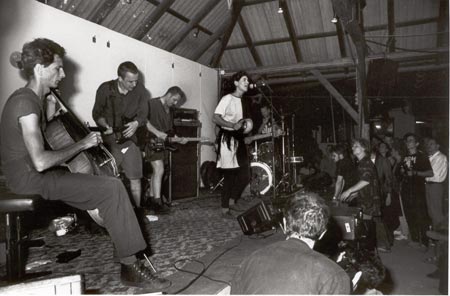 the ex + tom cora
T. If you could change something, back from 1979, what would it be?
I believe it is okay that it went like it did. There's not too much that we feel we have to regret. Even the errors we made do serve a purpose in the end, because one can learn from them, so that the next time you can avoid those mistakes.
T. You had so many personal changes in the band. How many people were in the band from the start 'till now? Who is in THE EX now?
I don't think we had that many changes in the line-up. Considering the fact that we have been around for 27 years, in which we had about 16 people in the band, of which there are still 4 persons remaining, that is an average of less than one change per every two years. Besides, the four of us that are The Ex right now (Andy, Terrie, Katherina, GW Sok), have been together for already more than 16 years!
T. You worked with Sonic Youth and Tortoise on "In the Fishtank" sessions. Is there any artist that you would like to work with but you haven't had chance yet?
Actually, we never think in those terms. Most people we have worked with, we happened to have met before, and the collaborations kind of grew out of a mutual respect and friendship. The idea of collaboration always came later. There usually is no obvious plan to begin with. We're always open for collaborations when we feel that it is a good idea and that we like each other. So that can basically be anybody. Personally I don't have any favourites really. (Besides, once I start to mention any names now, people would keep reminding us of it, and we would feel kind of obliged to definitely make it happen, even when we later on might feel not too enthusiastic about it...)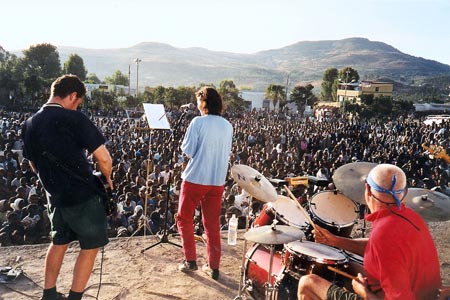 the ex @ ethiopia 2003
T. You like to work with the noise bands and artists but you also like to work with ethno artists especially from Africa. What was your best cooperation 'till now?
There have been a lot of collaborations that we are really proud of, but it is difficult to say which one would be the best. Because all collaborations are different all the time. Working with jazzers from Holland is not the same as working with, say, Chumbawamba, but there are always things that make the collaborations exciting. But one that stands out, also because it led us into new directions music- and audience wise, happened around 1990 to 1993, when we played with cellist Tom Cora from New York, with whom we also recorded two albums. And then of course there is our latest collaboration, with Getatchewe Mekuria, with whom we did some concerts in Holland and France and recorded ten of his compositions. He's over 70 years old, a legend in Ethiopia, and he is an amazing saxophone-player and has an enormous energy. He asked us to record those songs with, so we invited some extra horn-players and made some new arrangements. That went really well. So, hopefully we'll manage to do another tour together somewhere next year.
T. What do you listen when you're at home, on tour, right now…?
When on tour we mostly play so-called world-music (stupid description, I know) in the van. Definitely no heavy rock-shit, that's too tiring when you have to be on the road the whole day. Right now, at home, I listen to nothing in particular. No music... I hear traffic outside, the slight buzz of the computer... Later this day I will probably have the sound of the World Championship football in the background. ;-) When I work at home I don't listen to music. When I have time off I play usually old and varied stuff. Sometimes new bands. It depends on what kind of mood I'm in. But any music is basically fine with. With the exception of Dutch ballads/schlagers or football-chants.
T. You played in Croatia in 2000. Some people who were there that time told to me that it was the best concert they have ever been to. Do you remember anything from that day?
I remember that we had had a very long drive to come to Zagreb, it was beautiful weather. I think the venue, called KSET, was in the outskirts of the town. We played there with Zu, who had played the day before in Sarajevo and were still in a bit of a shock because of all the destroyed houses everywhere... I don't have a detailed memory of the gig itself, but I do remember that the audience was very enthusiastic, and that both The Ex and Zu had an excellent time. The next day we drank a coffee together with Matte, the promoter, on a terrace in the center, and then we drove off to Italy.
T. You recorded nearly 20 albums. Do you play new songs only on concerts, or are there the old ones still alive?
Usually we play mainly new material during concerts. What happens is, that once we have released the older songs on a cd, we start to make new ones and then of course want to play these live. So the old songs make way for new songs. Practically it means that about 80% of our live-set is almost always new material that our audiences have not yet heard before. It is very rare that we play old songs, especially songs older than, say, two or three years, because once we don't play them anymore we forget how we used to play them, as we are then more focused on (learning to) play the newer ones. Then again, at our 25th anniversary party we did a short set of old ones, and that was actually really fun, so yeah, it might happen that sometimes we suddenly play something old.
T. Did you prepare something special for your gig in Zagreb on 04/07?
We'll be playing our present live-set, which we never before played in Zagreb anyway, so we assume that will be special enough. We'll make sure that we'll be properly prepared to play as good as possible, because we are very excited to play the festival.
T. What are your plans for near future?
In September we will be releasing the cd with Getatchew, and we'll be playing in Chicago at the 25th anniversary of our North-American record-label Touch And Go. In October we'll be touring Brazil for the first time, and hopefully we will find enough time at the end of this year to record our new songs. Then in 2007 we will be involved again in collaboration with theatre-group d'Electrique for an adaptation of A Clockwork Orange, which means four weeks of rehearsals and four weeks of playing all over Holland.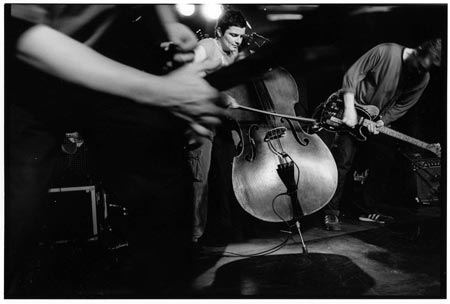 the ex @ groningen 2004 © rachel corner
T. Tell me something I would never guess about you?
I think that Croatia will beat Holland in the semi-finals of the Soccer World Cup on the 4th of July!
pedja // 14/06/2006