"Tide is a new band on the block although most of the guys have been around for a while. To be more precise, since the early 90's." But let's hear it from Kevin, guitar & vocals of TIDE...
A brief history of how the band started?
It all started when I ( Kevin Koradin - guitar / vocals ) moved to Amsterdam, where I spent about 6 years working as a studio musician. There I met some great musicians and amazing people which then helped me bring to life our first record Seven Days. Matej Batelic was an old friend of mine and my first choice for a bass player. Initially, we started off with a Danish drummer but it didn't really work out as well as we thought it would. The whole situation was very unsettled. I came back to Slovenia in late 2004 and bumped into an old acquaintance of mine, Peter Kokotec ( Guitar ).We shared great respect for each other and so it happened that he was also looking for a serious band. It was the perfect opportunity to join forces. Matej brought in the last missing link, Gregor Jakac ( Drums ). Although the band was in place, things really started to happen once Sandi Maver ( manager ) joined the team.
Why TIDE?
We like the fact that the word Tide indicates something that's constantly moving. It can also mean changes, changing…and it sounds good too. Take a look
at our website
.
Something about your album?
There are 11 tracks on this album and I think it shows that we've been influenced by different styles of contemporary music varying from grunge, hard rock, punk and even industrial. When I say industrial I am referring to the last ( bonus ) track on the album. Overall, this album is a collection of powerful rock songs with a story.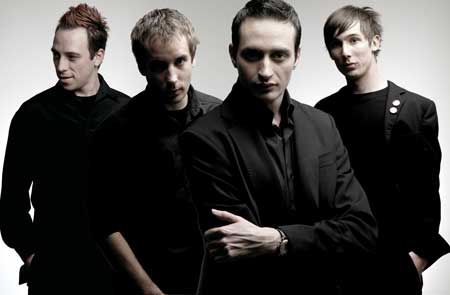 tide © luka kase
Your songs are in English. Why?
This is really simple to explain. We've always thought of ourselves as an international band. Therefore, we want to introduce our music to a wider audience all over the world. Music is an international language, it has no borders, it allows us to communicate with people, no matter where they come from and that's how we like to treat it. We are equally eager to play in Sweden, UK or Croatia and I positively think that, singing in English will help us bring together potential fans.
What are the topics in your songs?
In terms of lyrics I consider myself a storyteller. My lyrics are personal but since I do write about stuff that happens in real life most people can identify with them.
It's kind of like sharing experiences.
There's also a love song on this record (Lost Inside) which I'm really proud of. Despite the fact that it deals with love it is not corny.
Are there any songs that you would like to cover and any artist that you would like to play with?
I don't really think much about covers, too busy writing my own material. However, we do play one cover live. This song is Kick Out The Jams by MC5. Not many people know this band but a lot of people seem to know the song which was a big hit in the US. There are many artists we'd like to play with, I guess too many to mention. I would like to tour with such bands as U2, Audioslave, Queens of the stone age, Muse, Filter, Foo Fighters…
Best albums and movies of all time?
Best albums:
U2 - Rattle and Hum, Soundgarden - Badmotorfinger, Jeff Buckley - Grace,
Filter - Title of record, Pearl jam - Ten, Smashing Pumpkins - Siamese Dream
Nirvana - Nevermind, Led zeppelin - III, David Bowie - Ziggy Stardust, etc
Best Movies
Midnight Cowboy, Raging Bull, Alien, Blade Runner, The Godfather, Taxi Driver, Apocalypse Now, Papillon, The Shining, Deliverance, Rear Window, The Crow, etc
Tell me something I would never guess about you?
I'm skinny so usually people don't know that I adore good food.
It must be my Italian blood.
pedja // 18/02/2006