When their debut album "Lido", was published in 2001., commercially it went by relatively unnoticed. However it contributed to their cult status in U.K. ""Cedars"" was also not likely to make them worldwide famous, but at least they gained one more fan with it - myself.
If for nothing else, then for the song "Almost the Same", a hidden love song with a strong guitar rif and a catchy melody reminding me of the beginning of 90-ties and the time when the Chapterhouse, Pale Saints and Slowdive ruled the world. The rest of the album is on the same track, what is to be thanked to their producer Simon Raymonde, a former member of the former band Cocteau Twins.
Almost 3 years after "Cedars" their third album "Amber" is out. Recorded in eight studios in France and the UK, produced by Clearlake's Jason Pegg with Steve Osborne (U2, Happy Mondays, KT Tunstall) and Jim Abbiss (Kasabian, DJ Shadow and David Gray) and recorded by Phill Brown (Talk Talk, Bob Marley, Led Zep, Hendrix, you name it)….
Are they going to be worldwide famous and what else they have to say by Woody Woodward, bass player in CLEARLAKE.
T. Where are you now and what are you doing?
I'm sitting in my little spare room in Brighton catching up with mail. Drinking tea, and eating very dark chocolate.
T. Why name CLEARLAKE?
We are named after a run-down little hotel in central London with a beautiful name.
T. A brief history of how the band started?
We've been playing together for around 9 or 10 years. We met through a shared love of listening to records, and playing live in back rooms of pubs. Brighton has a cool music scene.
We wanted to be part of it.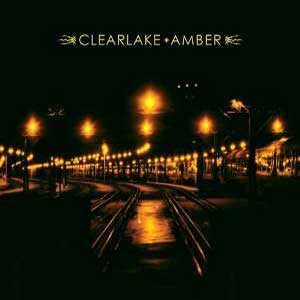 T. Your new album "Amber" will soon be out in the stores. Tell us something about new songs? Are there any major differences between "Cedars" and the new one?
"Cedars" was a pretty heavy album emotionally. We were all having strange times in our lives, both good and bad. "Amber" is far more up-beat. We feel the need to have fun, rock out, and make you all dance a little!
How was it for you to work with Simon Raymonde (ex-COCTEAU TWINS, now on BELLA UNION Records), on "Cedars", and why didn't you collaborate with him on ""Amber"?
We made a lot of "Cedars" ourselves, with our own recording gear. We reached a point where we needed some creative input from an outsider for the production. Simon was recommended to us, and having met him, he seemed right. He brought something to the sound which we all liked. Each album is separate and an entity in itself, therefore it is only natural to work with different people in different places to take a different bite of that huge ripe fruit which is music.
T. You share a record company with maybe the most popular band in the world today, Franz Ferdinand, and Arctic Monkeys, "next big thing", amongst many others. Do you think that it could help you in your career?
Those bands have increased the profile of Domino no end, and that can only be a good thing, as there is now more money available for all the amazing, quirky, strange, wonderful acts on the label to continue to thrive within the Domino family. Domino is probably the coolest label at the moment, but I doubt if that fact alone will make anyone like a particular band.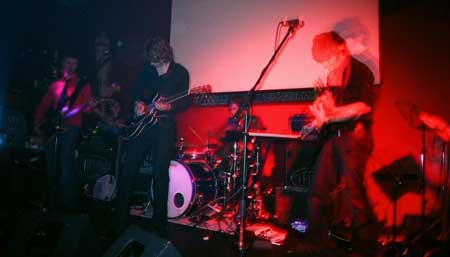 clearlake © www.clearlake.uk.com
T. Is there any song that you would like to cover and any artist that you would like to play with?
I'm not big on covers at the moment, although we have done songs in the past by Donovan, Neil Young, The beach Boys, Elvis Costello etc. I would love to work with Josh Homme. He has a method to his sound which really gets me. So simple, yet powerful.
T. Since 2005. has just ended, can you please write your favourite albums and movies of that year?
Mew-and the glass handed kites, QOTSA-Lullabys to paralyse, Robert Plant-Mighty rearanger, Low-Great destroyer, Trail of Dead-Worlds apart.
Filmwise, I loved The life aquatic. So funny.
T. Is there any chance for you to come to Croatia to play?
If we are ever offered the chance, we would love to come and play in Croatia.
T. Tell me something I would never guess about you?
Before she was married, my grandmother was called Mary Christmas. Her parents must have had an off-day.
pedja // 30/01/2006