New July Skies track 'Out In The Sun' on the Guidance Records 'Belas Knap' download only compilation. The album is released today featuring 12 tracks, included contributions from Avrocar, El Heath, Redpoint.
The album is available in FLAC or MP3 format from
Bandcamp
site at a £3 minimum donation price - Importantly all money received will be donated directly to the British Red Cross Japan Tsunami appeal.
Guidance Records Compilation (guide:b)
1. Redpoint - Near Bathpool
2. And I Watched Her Walk Away - Letting Her Go
3. July Skies - Out In The Sun
4. Chapelfields - Fenu
5. She Woke At Cirencester - Little Steps
6. Avrocar - Towa Czarina
7. El Heath - day level
8. And I Watched Her Walk Away - Nothing Lost
9. My Love For You Emperor - Sun Handle
10. Seek2track0 - Soyuz
11. Juliasette - K6 : Wroughton (Midsummer version)
12. Treesbygb - We'll Meet Here Next Year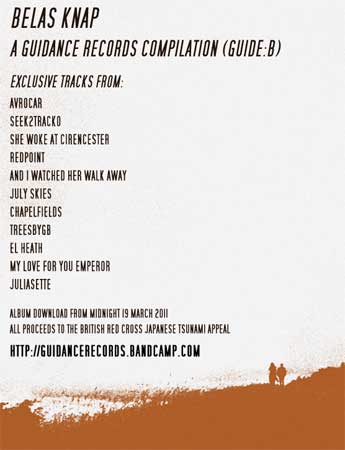 promo guy // 20/03/2011