17.06.2010. ČETVRTAK
FutureVibes Party
DJ´s Smack & My Bitch Up
You like big butts and you cannot lie? You see that baby, shakin' that ass? She's nothing like a girl you've ever seen before? If this ain't love, why does it feel so good? What is love, a little less conversation, a little more action? U can't touch this? Stop the rock, you can't stop the rock? You're blue, da ba dee da ba die? You're gone sent into outer space, to find another race? You're lazy when you're lovin', you're lazy when you play, you're lazy with your girlfriend a thousand times a day? You like to move it move it, and you're totally addicted to bass? You need to get some sleep?
You can't get no sleep?
Ready? Steady? Go!
Fatboy Slim, The Prodigy, The Chemical Brothers, Apollo 440, Underworld, Faithless, Oakenfold, Basement Jaxx, Groove Armada, Asian Dub Foundation, Pendulum, Chase & Status, Junkie XL, Beastie Boys, House of Pain, Cypress Hill, MC Hammer, Snap!, 2 Unlimited, Haddaway, La Bouche, ATB, Modjo, Daft Punk, Eiffel 65, Gigi D'Agostino, Scooter and many more...
World, my finger is on the button.
Ožujsko 0,3l - 5kn
Tomislav 0,3l - 5kn
Žestice - 5kn (3 komada za 15kn!)
Upad besplatan! Za sve! Ulaz od 22:30 h.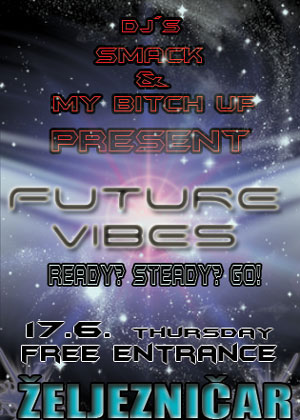 18.06.2010. - PETAK od 22h
ROCKENROLLA - Ultimate Rock Party by dj Kneža - NIGHT OF BILLY IDOL
upad - 15 kuna
Rockenrolla je party posvećen najboljoj stranoj i domaćoj hard rock i glam/hair glazbi. Uživajte u najpoznatijim riffovima rocka, power baladama te ostalim hitovima koji su obilježili povijest rock glazbe!
Na ovom tulumu moći ćete počastiti svoje uši bendovima kao što su AC/DC, Deep Purple, Scorpions, Bijelo Dugme, Opća Opasnost, The Cult, Skid Row, Deff Leppard, Twisted Sister, Queen, Rainbow, Mötley Crüe, Whitesnake, ZZ-Top, Atomsko Sklonište, Osmi Putnik, Status Quo, Led Zeppelin, Divlje Jagode, Uriah Heep, Van Halen, Europe, Bon Jovi...
Ovu večer posvećujemo velikoj glazbenoj veličini Billy Idolu, čovjeku koji je žario i palio svjetskom rock scenom u 80-ima i početkom 90-ih godina prošloga stoljeća. Na ovom tulumu moći ćete čuti njegove najveće hitove poput Cradle Of Love, White Wedding, Dancing With Myself, Rebell Yell, Hot In The City, Speed te mnogih drugih.
Pripremite se za rock akrobacije, naštimajte svoje air gitare, izvucite najizdržljiviji par tenisica iz ormara i pripremite se za Rockenrollu - rock tulum kakav svijet još nije vidio!
19.06.2010. SUBOTA
Funky Situation
Funky Situation akcija!!! Dođite 19.06. u Željezničar i zabavite se uz najveće hitove 70-ih, 80-ih i 90-ih!
Vrti se...Michael Jackson, Kool & The Gang, John Travolta, James Brown, Prince, David Bowie, Frankie Goes To Hollywood, Ace Of Base, Dino Dvornik, Tina Turner, Depeche Mode, 2 Unlimited, Dr.Alban, Snap, Yazoo, Eurythmics, MC Hammer, Soft Cell, Whitney Houston, Technotronic, Toto, Inner City, Barry White, Beatles, Gloria Estefan, Kaoma, Gipsy Kings, Cyndi Lauper, Chic, Sister Sledge, The Clash, Bee Gees, Diana Ross, Man At Work, Bob Marley & The Wailers, Grandmaster Flash, Inner Circle, Clint Eastwood i još puno toga...
DJs Mihalj, Juan i Marcos.
start: 22.00, end: 04.00
cijena karte: 15kn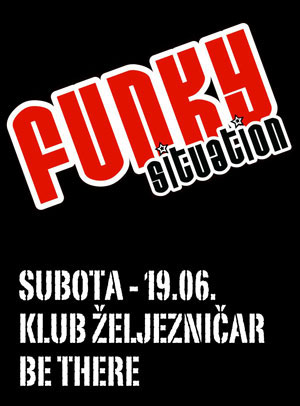 promo guy // 16/06/2010