22.1. petak
SKA PARTY vol.3.
Ska party se seli u novi klub Željezničar. No to nije jedina promjena. Osim DJ-a Botice i Hulje, ovaj put imamo i live svirku. U goste nam dolazi mladi zagrebački bend, Eve & the Evils. Svi vi koji ste bili na prijašnjim slušaonama znate šta očekivati, worldwide ska, od traditionala preko 2tonea do novijeg ska zvuka. Vi koji niste, imate priliku ispraviti tu grešku na ovoj. Otjerajte hladnoću veselim ska ritmovima, dodjite i skankajte s nama uz Judge Dread, Bad Manners, The Specials, The Skatalites, Tokyo Ska Paradise, 8°6 Crew, Ringišpil, Talco, No Respect, Scrapy, The Offenders, Distemper, Inpecter 7, Reel Big Fish, Banda Bassoti i ostale.
Poanta benda
Eve & the Evils
je da se radi vesela glazba koja će prvo i osnovno zabavljati ljude i natjerati na pozitivno razmišljanje, čime se pokušava odmaknuti od mudrih filozofiranja o glazbi i njenoj namjeni. Doduše, sami tekstovi se zaista i dotiču neke generalne problematike, ali na jedan vrlo sarkastičan i crnohumorni način, te se tako pokušava napraviti odmak od nejasne, tzv. metaforične lirike. Pa tko hoće, nek izvoli. Prigodno za vjenčanja, sprovode i političke kampanje.
Cijena ulaza je 20 kuna, a vrata se otvaraju u 21h.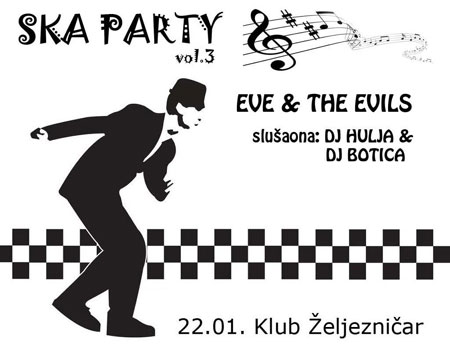 23.1. subota
FUNKY SITUATION
Najbolji Studio 54 program u Zagrebu od sada u...Željezničaru. Vidimo se u klubu uz najveće hitove 70-ih, 80-ih i 90-ih!
Vrti se...Michael Jackson, Kool & The Gang, John Travolta, James Brown, Prince, David Bowie, Frankie Goes To Hollywood, Ace Of Base, Dino Dvornik, Tina Turner, Depeche Mode, 2 Unlimited, Dr.Alban, Snap, Yazoo, Eurythmics, MC Hammer, Soft Cell, Whitney Houston, Technotronic, Toto, Inner City, Barry White, Beatles, Gloria Estefan, Kaoma, Gipsy Kings, Cyndi Lauper, Chic, Sister Sledge, The Clash, Bee Gees, Diana Ross, Man At Work, Bob Marley & The Wailers, Grandmaster Flash, Inner Circle, Clint Eastwood i još puno toga...
Cijena ulaza je 25 kuna, a vrata se otvaraju u 21h.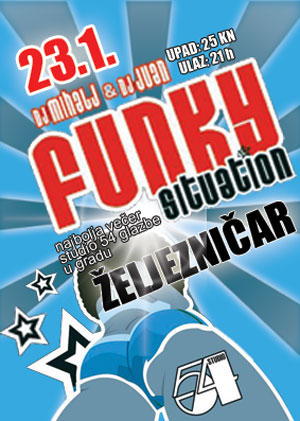 promo guy // 19/01/2010