ROCKENROLLA - the ultimate Alice Cooper party, subota 09.01.2010.
Rockenrolla party je posvećen najboljoj stranoj i domaćoj rock i hard rock glazbi. Uživajte u najpoznatijim riffovima rocka, power baladama te ostalim hitovima koji su obilježili povijest rock glazbe!
Dodatnu inspiraciju za rock akrobacije moći ćete pronaći na medenom satu (23-24h), kada ćete moći popiti dvije medice za 10 kn. Naštimajte svoje air gitare, izvucite najizdržljiviji par tenisica/cipela iz ormara i pripremite se za Rockenrollu - rock tulum kakav svijet još nije vidio!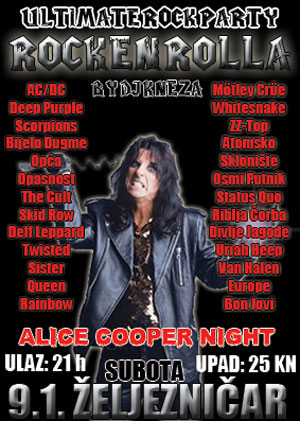 Na ovom tulumu moći ćete počastiti svoje uši bendovima kao što su AC/DC, Deep Purple, Scorpions, Bijelo Dugme, Opća Opasnost, The Cult, Skid Row, Deff Leppard, Twisted Sister, Queen, Rainbow, Mötley Crüe, Whitesnake, ZZ-Top, Atomsko Sklonište, Osmi Putnik, Status Quo, Riblja Čorba, Divlje Jagode, Uriah Heep, Van Halen, Europe, Bon Jovi... A počasnu zvijezdu večeri čut ćete mnogo puta, ispočetka i ponovo, sve dok stvarno poželite malo dobrog crodance-a. Riječ je Alice Cooperu, slavnom muškarcu-ženi iz starih dana rock glazbe!!
Glazbu pušta dj Kneža. Cijena ulaza je 25 kuna, a ulaz je od 21h.
promo guy // 07/01/2010