Undercode (Heavy Metal, Zagreb)
Ovaj bend je obilježio kraj 90-ih i prvu polovicu 2000-ih, vrijeme kada se usnula domaća scena počela napokon buditi. Kroz nekoliko godina djelovanja uspjeli su privući pažnju publike, poglavito soundtrackom u svjetski poznatoj PC igri Serious Sam - The Second Encounter. Godine 2002. objavili su svoj album prvijenac Enlightening The World. Godine 2005. osnivač benda Damir Ljubičić zbog obiteljskih obveza seli u Australiju gdje je rođen te bend uzima pauzu. Godine 2011. grupa obožavatelja iz Rusije pokrenula je fan site koji je okupljao nekoliko tisuća ljudi te su uspjeli pokrenuti internetsku peticiju kako bi Undercode završio na soundtracku nove igre Serious Sam 3 - BFE. Godine 2015. bend je objavio novi album pod nazivom Post-Apocalyptic. Na Valhalla festivalu predstavit će svoj dugogodišnji rad!

https://www.facebook.com/undercodemusic
https://www.youtube.com/watch?v=bqsIyJfwDp4
Polarity Of Life (Melodic Death Metal, Zagreb)
Ovaj metal bend (death, melodeath, thrash, ali prije svega metal) nastao je 2009. godine u Zagrebu. Vizija benda je stvaranje glazbe koja u sebi sadrži mnoge utjecaje navedenih žanrova s vlastitim autorskim pečatom baziranim na old school izričaju. Neograničavanje na stilove i inspiracija iz svih aspekata života ono je što daje snagu bendu. Debitantski album pod istim nazivom kao i bend objavili su 2014. godine, a 2017. izlazi EP Beginning/End/Beginning koji je jako dobro primljen od strane mnogih glazbenih portala, radio emisija te domaćih i stranih webzinea. EP je popraćen spotom za pjesmu Cutting Through i mini turnejom po Srbiji, Rumunjskoj i Mađarskoj. Ne propustite ih poslušati na Valhalla festivalu!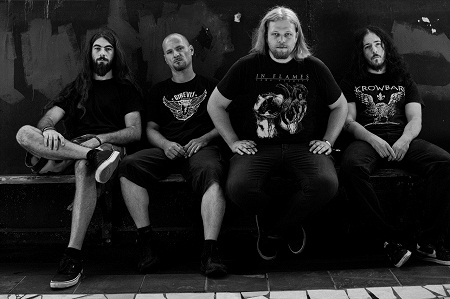 https://www.facebook.com/polarityoflife
https://www.youtube.com/watch?v=4meAz-UpYYw
FB EVENT:
https://www.facebook.com/events/209535799590923/
promo guy // 09/02/2018