Austrijski Nova Rock festival pripremio je još jedno spektakularno četveronoćno izdanje koje se ove godine održava od 14. do 17. lipnja na panonskim nizinama kraj Nickelsdorfa na samoj austrijsko-mađarskoj granici. Dakle, za neka četiri sata vožnje od Zagreba imate priliku zabaviti se u ponajjači festivalski lajnap u regiji kojeg ove godine predvode Linkin Park, Green Day, Blink 182, System Of A Down i Prophets Of Rage.
Festival nudi dvije velike open-air pozornice i nekoliko manjih od kojih se ističe Red Bull Brandwagen Stage na kojem su upravo najavljeni Touche Amore, Stray From The Path, Red Sun Rising, The Raven Age, Callejon i mnogi drugi. Na najvećim stagevima osim gorespomenutih hedlajnera vrijedi vidjeti Slayere, Five Finger Death Punch, Pendulum u DJ setu, The Dillinger Escape Plan, Mastodon, Alter Bridge, Rancid, Good Charlotte, In Flames, Steel Panther, Rag 'N' Bone Man, Knife Party, Gojiru, Machine Gun Kellyja, Suicidal Tendencies, Hatebreed, Architects, Fatboy Slima i kasnonoćno party iznenađenje - Davida Hasselhoffa.
Festivalske ulaznice kreću se od 169 do 499 Eura ovisno o vrsti propusnice, a moguće ih je kupiti u sustavu Eventima.
dunja lacković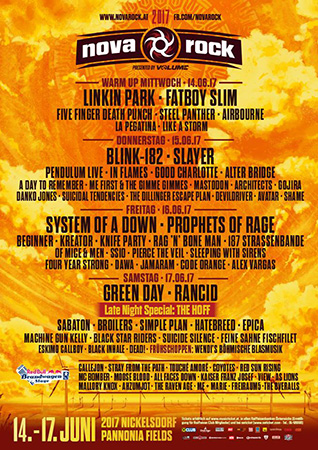 terapija // 10/05/2017