PROGRAM:
subota
- 20/11 - Klub Kino Grič / 22h
FADE IN PARTY
w. cfsn DJs:
dubway, phillipe, funk guru, basta
besplatan ulaz + festivalski info point
Uz čašicu informacija vezanih uz nadolazeći festival, confusion DJs lagano će vas zagrijati u klupskom dijelu kina Grič, sve do 2 sata ujutro.
petak
- 26/11 - AKC Medika / 23h
ZAGREB SOUND CLASH
Bassinvaders! vs Kontrapunkt vs DUBstepKLUB vs confusion
30kn do ponoći / 40 nakon
U duhu Jamajkanske sound system clash tradicije, sada ćete po prvi put i u Zagrebu imati priliku navijati za vaš najdraži zvuk uz pionire zagrebačke bass music scene. Pobjednik je ekipa koja vas najviše digne na noge i ruke. Zato dođite, plešite, skačite i vičite - Reeewind!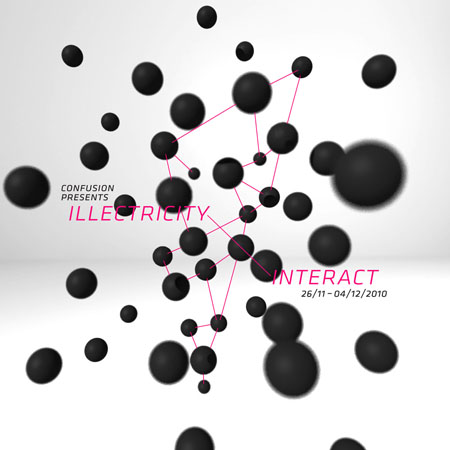 subota
- 27/11 - Sirup / 23h
5. NUCOMERS NIGHT
iggy dub & aeon + nucomers
20kn do ponoći / 30 nakon
Peti po redu natječaj za mlade i neafirmirane DJ-e i producente dovest će nam na scenu nove snage koje će se ove godine predstaviti u klubu Sirup. Osim ovogodišnjih nucomera, confusion je pozvao i dva DJ-a koja su već nastupila na nucomersima 2008. i 2009. godine, da usporedbe radi odmjere snage!
četvrtak
- 02/12 - Klub Kino Grič / 20h
VIDEOSKOP
+ after party w. cfsn DJs
besplatan ulaz
Videoskop je svojevrsni live video-session na kojem sudjeluju domaći i međunarodni VJ-i. Svaki VJ ima oko 8 minuta da ispriča svoju priču i da se predstavi u sasvim drugačijem okruženju, a publika može, zavaljena u udobna sjedala, gledati i uživati u apstraktnim video kolažima koje inače mogu vidjeti jedino u klubovima.
subota
- 04/12 - Pogon Jedinstvo / 23h
(stara tvornica pored kluba Močvara)
MAIN FESTIVAL NIGHT
audio:
Hot City
(Moshi Moshi Records, UK) - http://www.myspace.com/hotcitybass
Black Sun Empire
(BSE Recordings, NL) - http://www.blacksunempire.com/
Oneman
(Rinse.FM, UK) - http://www.mixcloud.com/oneman/
Piece Of Shh... LIVE
(Svetlana Industries, RS) - http://www.myspace.com/pieceofshh
Robert Radamant LIVE
(egoboo.bits, HR) - http://www.myspace.com/robertradamantsco
+ cfsn DJs
video & instalacija:
MOE 2
55kuna u pretprodaji / 65 na dan
Pretprodajno mjesto: Rockmark - glazbena knjižara (Berislavićeva 13)
Program proveden u suradnji sa Zagrebačkim centrom za nezavisnu kulturu i mlade
Glavna večer u staroj tvornici Jedinstvo mnoge vjerojatno najviše i asocira na illectricity festival. Upravo u tom magičnom prostoru, na glavnoj festivalskoj večeri gostovali su mnogi poznati glazbenici kao što su: Rustie, Deadbeat, Jon Hopkins, D-bridge, Cooly G, Peverelist, Various Production, Jahcoozi, CLP, Al Haca, Mary Anne Hobbs, Klute, Panacea, itd.
Naravno, niti jedna glavna večer ne prolazi bez neizostavne MOE video instalacije.
Kako je bilo na prošlogodišnjoj glavnoj večeri, pogledajte na videu:
Illectricity 2009 video
from
Illectricity
on
Vimeo
.
nastupaju:
HOT CITY
Gdje ima dima, ima i vatre! Razlog zbog kojeg se tolika prašina digla oko Hot City jest upravo njihova neodoljiva kombinacija starog i novog, urbani bass pristup inspiriran starim New Yorškim houseom, 2-stepom, garageom i old skool raveom, jedinstveni stil koji je osvojio publiku i muzičke krugove sa svojim plesnim beatovima i energičnim vibeom.
"Hot City's "Yeah" on Highpoint Lowlife was one of the best breakthrough singles we'd heard in ages." FACT Magazine
"One of the most talked about names on the dance scene right now Hot City's recent mix for Mary Anne Hobbs left radios fried across the land." Clash Magazine
"Hot City's "Yeah" nails the infectious old skool vibe better than most. An Awe-inspiring package." DJ Mag
Linkovi:
xlr8r podcast:
http://www.xlr8r.com/podcast/2010/02/hot-city
Fabric live:
http://www.fabriclondon.com/blog/view/hot-city-fabriclive-promo-mix
ONEMAN
Oneman je jedan od najcjenjenijih DJ-a na UK bass glazbenoj sceni. Njegova specijalnost je u načinu na koji različite žanrove spaja u plesan i zanimljiv, a istovremeno kvalitetan i smišljen set! Činjenica da je Loefah 2008. izabrao upravo Onemana (koji je samo DJ, ne i producent) da predstavlja Generation Bass na BBC Radio 1 Experimental, emisiji Mary Anne Hobbs, dovoljno govori o kvaliteti njegovih DJ setova.
"The most exhilarating DJ on radio right now, Oneman." Pitchfork (Martin Blackdown)
"His regular slot on Rinse has become the show to check for those in the know, garnering respect from peers like Kode 9, Blackdown and Geeneus." Boomkat
"The Londoner has risen through the DJing ranks of dubstep via his quick-fire approach to playing records as well as his refined and diverse tune selection." Resident Advisor
Linkovi:
live @ Generation Bass Radio 1 (Mary Anne Hobbs):
http://www.youtube.com/watch?v=o2y45naThhU
mixevi:
http://www.mixcloud.com/oneman/
BLACK SUN EMPIRE
Na svjetskoj turneji povodom četvrtog studijskog albuma, Black Sun Empire će po treći put izmamiti osmjehe na vaša lica. Za stara i nova vremena! Jer BSE nisu više samo poznati kao vrhunski drum'n'bass producenti i DJ-i, već su se momci jednako uspješno ulovili i u koštac sa dubstepom! Album "Lights and Wires" najbolje predstavlja njihovu svestranost, a opet nepogrešivo odaje jedinstveni zvuk ovog nizozemskog trija koji je svojim stilom osvojio cijeli svijet.
"Truly dynamic piece of work that will surely be in the front of your box for the rest of 2010 into the new year."
"When it comes to deadly, dark and digital drum'n'bass, this is the real deal."
Linkovi:
Black Sun Empire myspace:
http://www.myspace.com/blacksunempire
Diskografija:
http://www.discogs.com/artist/Black+Sun+Empire
Lights And Wires minimix
http://www.kmag.co.uk/editorial/news/black-sun-empire-lights-and-wires
Više informacija o radionici produkcije illektronske glazbe, Ableton radionici i VJ radionici uskoro!
www.illectricity.com
maja // 22/11/2010