The 28th Monteparadiso Hardcore Punk Festival
31.07. / 01.08.2020.
Društveni centar Rojc / Social Center Rojc (Adresa / Address: Gajeva 3 - https://goo.gl/maps/8E8DNFx3QxP2)
Pula, Croatia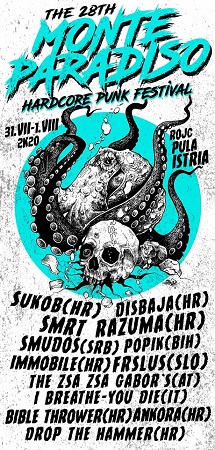 S ponosom predstavljamo 28. Monteparadiso hardcore punk festival! We are proud to announce the 28th edition of the Monteparadiso Hardcore Punk Festival!
LINE UP:
Sukob (HR)
Disbaja (HR)
Smrt Razuma (HR)
Smudos (SRB)
POPIK (BiH)
Immobile (HR)
Fršlus (SLO)
PxDxTx (HR)
iBreathe.YouDie (IT)
Bible Thrower (HR)
Dropthehammer (HR)
Ankora (HR)
Vidimo se na pankerskoj novoj godini! See you at the Punx New Year's Eve!
promo girl // 09/07/2020