VINTAGE INDUSTRIAL PREDSTAVLJA:
THE GODDAMN GALLOWS
BLUEGRASS/PUNK/ROCK FROM DETROIT
PONEDJELJAK 13.11.2017. // Karta: 55/70 kn // Pretprodaja: VIB (Savska 160),
Dirty Old Empire (Tratinska 18)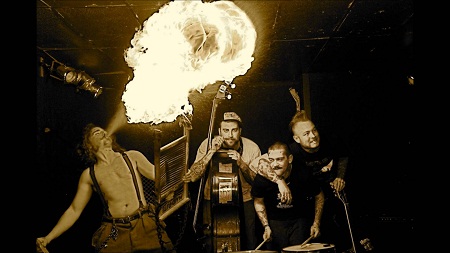 Iz srca američkog hrđavog industrijskog i rockerskog Detroita prvi put u Hrvatsku stižu The Goddamn Gallows. Godine provedene na turnejama, nekako su i oblikovale njihov specifični bluegrass zvuk kombiniran s punk rockom, metalom i zvukom okultnog, ali samo u svrhu najbolje live koncerta koji možete zamisliti.
Live nastup koji ne smijete propustiti. The Goddamn Gallows krasi zarazna i spontana erupcija nepredvidljivosti zato obavezno dođite 13. studenog u Vintage Industrial.
Većinu svojih života proveli su svirajući uzduž i popreko Amerike. Spavali su u napuštenim zgradama, squatovima, kampovima, garažama, a 2007. su napustili sve što su imali i odlučili se poptuno posvetiti glazbi.
Počeli su graditi punk rock zvuk pomješan s teškim rednečkim rokabilijem. S vremenom su počeli uz cestu skupljati glazbenike koji su svirali rifljače, harmomike, mandoline, banjo i stvorili HOBOCORE, tj. americana gypsy punk bez da su zericu više predaniji nekom od spomenutih žanrova.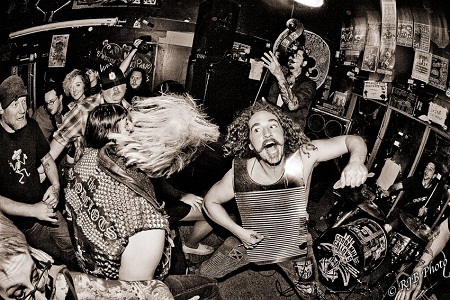 ČLANOVI:
JOE PERREZE (vocals, banjo)
MIKEY CLASSIC (vocals, guitar)
FISHGUTZZZ (vocals, upright bass)
BABY GENIUS (drums)
TV'S AVERY (accordion, washboard, drums)
DISKOGRAFIJA:
2007. Gutterbillyblues
2009. Ghost Of Th' Rails
2011. 7 Devils
2014. The Maker
FB:
www.facebook.com/thegoddamngallowsofficial/
WEB:
www.thegoddamngallows.com/
promo guy // 10/11/2017