Prihvaćen od strane kritike i publike od izlaska prvog albuma 2010. godine, Gregory je rastao i muzički i kao kantautor, no u zvjezdanu orbitu lansiraju ga čak dva osvojena Grammy-a za najbolji vokalni jazz album 2014. i 2017. godine.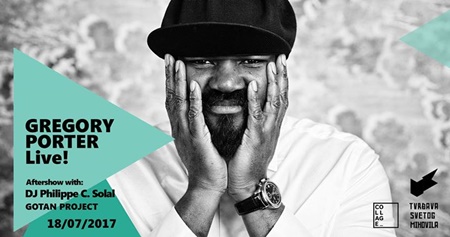 S korijenima u gospelu, Gregory je poznat po tome što posjeduje sposobnost gospel pjevača da publiku uvuče u svoj nastup i povede ih na nezaboravno putovanje. Ipak, svoj žanr opisuje kao hibridni jazz, prožet i soulom, popom i gospelom. "Gdje god da ja mislima krenem na koncertu, publika ide za mnom." kaže Porter, koji na Tvrđavi priprema jedan od najatraktivnijih koncerata ljetne sezone u Hrvatskoj! Ne propusti čuti i osjetiti vrhunske stvari poput Holding On, Don't Lose Your Steem, Take Me To The Alley, French African Queen i mnoge druge! Poslije koncerta čeka te i uzbudljiv aftershow!
Osim unikatnog vokala kojim iznosi najrazličitije emocije, Gregory Porter je postao prepoznatljiv po tome što se uvijek pojavljuje sa kapom, prilagođenom baš za njega.
Nakon putovanja svijetom jazza, slijedi aftershow francuskog producenta i skladatelja, najpoznatijeg kao osnivača elektronske tango grupe Gotan Project - nastupa Philippe Cohen Solal koji će te rasplesati vrhunskim DJ setom Gotan Projecta obogaćenim plesnim, latino ritmovima!
Karte možete kupiti
ovdje
, dok više o eventu provjerite na
Facebook stranici.
promo girl // 13/07/2017