Šestu godinu za redom, bez prekida, Sick As We Are hardcore punk festival se održava u Županji. Ove godine, festival pada na vikend 18. i 19.07.2014. Ulaz je i dalje, kao i svake godine, potpuno besplatan uz mogućnost doniranja po vlastitim mogućnostima i želji na lokaciji festivala.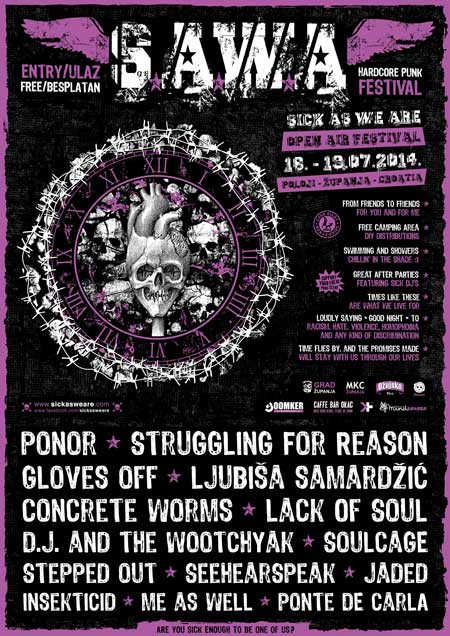 Unatoč elementarnoj nepogodi koja je zahvatila ove krajeve prije par tjedana, volonteri koji skupa rade festival su se odlučili okupiti i ove godine i skupnim snagama organizirati regionalno druženje zaljubljenika u žestoki zvuk.
Koncerti će krenuti svaki dan od 20h, dok niti preko dana neće izostati zabave na Gradskom kupalištu Poloji gdje je organiziran i besplatan kamp prostor. Ukupno će na SAWA festivalu nastupiti 14 bendova ove godine: Ponor (Zagreb), Struggling for Reason (Brussels), SeeHearSpeak (Vipava), Me As Well (Karlovac), Gloves Off (Banja Luka), Jaded (Zagreb), Concrete Worms (Beograd), Stepped Out (Split), Lack Of Soul (Zagreb), Ponte De Carla (Šibenik), Soulcage (Gornji Milanovac), Ljubiša Samardžić (Zagreb), D.J. & the Wootchyak (Pula), Insekticid (Županja).
SAWA 2014 - Hardcore punk festival (18. & 19.07.2014.)
from
Mind Eraser
on
Vimeo
.
Zanimljivost ovog festivala je što je ukupno u 6 godina okupio 71 bend do sada i niti jedan, niti jednom nije ponovljen na lineupu. Ekipa iz organizacije kaže da je to izuzetno teško, ali kako je ujedno i sretna što može svake godine publici predstaviti zanimljive nove bendove iz regije, ali i ostatka Europe i svijeta te da planiraju ustrajati u tome koliko bude moguće.
Dečki i cure iz festivalske organizacije direktno stoje protiv rasizma, mržnje, nasilja, homofobije i bilo kakvog drugog oblika diskriminacije s porukom "Ne voliš da netko oduzima tvoja vlastita prava? Nemoj ni ti to činiti drugima. Jedan svijet, jedna borba!".
Već se izrodio i svojevrsni moto ovogodišnjeg izdanja, iz pjesme američkog hardcore benda Champion - "We're still here and our hearts are true to the promises kept!". Svi zainteresirani za program i aktivnosti SAWA ekipe, mogu ih pratiti na službenoj
web stranici
i
FB profilu
.
promo guy // 23/06/2014