ASCAP award winning flutist and composer, Hadar Noiberg's NY based trio has tremendous success performing at major festivals and venues in Europe, USA, Canada, Taiwan and Israel. "From the Ground Up" is Hadar Noiberg's second CD as a bandleader and features her compositions for her trio- double bass, drums and flute. Noiberg fuses styles seamlessly. Flowing between Jazz and World Music, she has established herself as both innovative and highly skilled in the Jazz and World Music scenes nationally and internationally.
After working with such acclaimed artists such as Yemen Blues, Dave Valentin, Anat Cohen, Omer Avital and performing in venues and festivals as Blue Note, WOMEX, Discover Jazz Festival, Dizzy's Club Coca-Cola, Babel Med Music, Roskilde Festival, "A" Trane, Central Park SummerStage, to name a few, Noiberg sets out to create a new musical experience that has never been done before. Hadar was featured as a showcasing artist at the 'Overseas Night' at Europe's biggest Jazz showcase event, Jazzahead, which took place in Bremen, Germany April 2016.
Noiberg's trio is a 'Power Trio'- tight, full of groove and passion. The daring and unique instrumentation of flute, double bass and drums allows sliding in and out of Jazz improvisation and western harmonies with Middle Eastern and North African rhythms and semitones. The music of the new CD is fresh, spunky and boundary pushing- blending simple 'folky' melodies with intense development, soloing and communication.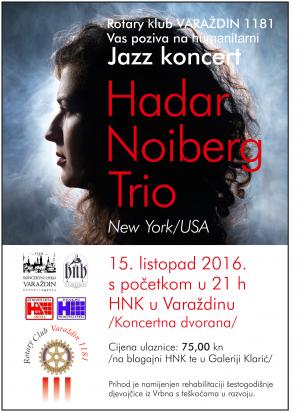 promo guy // 10/10/2016